Official Participant Interview : 1.Canada
When Japan started sending out invitations for participation in EXPO2005, Canada was the first to accept.

The reason is simple, says Louise Blais, counselor for communications and culture at the Canadian Embassy in Tokyo. "Canada believes that world expos are important for countries to come together and have an open dialogue," she says. "We are committed at the highest level to making sure that our participation is second to none. We want to make sure that what we bring to Japan and offer visitors is an experience that will be memorable."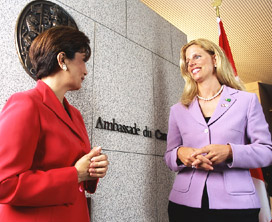 Louise Blais
Counsellor for Public Affairs
Canadian Embassy
Canada has a long tradition of participating and hosting world expositions, adds Blais. "People think positively of Canada but mostly in a very superficial way, such as mountains and scenery. However, Canada is also rich in other ways, such as its incredible cultural diversity and the role it plays in international peace and security, and its leadership in technology and innovation. Expos are a way we can share our stories with the world," she says.
"One of the things Canadians take most pride in is how we have developed not only as a country that respects diversity but also one that promotes it," Blais points out. "It increases our country's adaptability, resilience and quality of life, our creativity and we plan to make that model — what we have done together as a country — the focus of our pavilion and share our experience with visitors."
The Canadian pavilion will showcase the country's bio and ethno-diversity, and offer a new initiative which will be to connect Japanese and international visitors to the pavilion to Canadians in real time. There will be a rich cultural program on the National Day of Canada. Visitors will be treated to a really first class spectacle, Blais promises.
In line with the importance of environmental preservation at the expo, Canada is considering including in its pavilion some of its innovative technologies related to clean energy and forestry management.
With next year marking the 75th anniversary of Japan-Canadian relations, the expo will provide an ideal opportunity to build on that relationship, notes Blais. "We certainly hope many Canadians will come. We already have a lot of exchanges at grassroots level and around 74 sister-city relationships. Thousands of young Canadians come on working holiday visas or the JET program, while a lot of Japanese come to Canada to study," she says. "Japan is Canada's second largest trading partner, so this expo has special significance. We want to increase the flow of trade, to make business leaders on both sides more aware of opportunities in each others' countries."
Blais, who comes from Quebec, has been in Japan since August 2002. She recalls the high expectations she had before coming. "The thought of coming here was a little intimidating because the culture is rich and complex. I was wondering how I would be able to adapt and foster links and good communication. That has proven to be surprisingly easy. The people have met me more than halfway. Tokyo is such an amazing experience. There is so much to discover."
Blais has already been to the expo site in Aichi and was suitably impressed at this early stage. "The site is perfect for the theme of Nature's Wisdom. It will offer visitors a great chance to see the world's culture in a natural and beautiful setting that is already there and will be preserved after the Expo."
Although more than 100 countries and organizations have announced their participation in EXPO 2005, some critics say expos have lost their relevance in this era of globalization. However, Blais disagrees. "It is important for the world to come together in a certain place around a certain theme and exchange a dialogue. After 9-11, there is a need for people and countries to exchange views in order to foster harmony in the world," she concludes.


Interview:
Mari CHRISTINE
Public Relations Producer
for EXPO2005 Aichi, Japan