New Zealand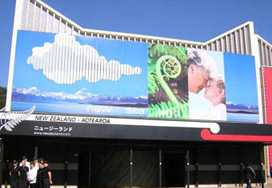 Official name
New Zealand
National Day
06.03.2005 (Fri)
Participant WEB site:
Theme / Exhibition
The New Zealand pavilion is a firsthand experience-type pavilion which showcases four themes - New, Sea, Land and People - using a variety of imaging techniques. The exterior of the pavilion is dominated by a manmade white cloud, visually representing both New Zealand and Aotearoa (a Maori word meaning "the land of the long white cloud"). The interior of the pavilion, meanwhile, is dark-colored so spectators feel as if they are in the natural environment.
At the center of the pavilion, the cloud condenses and falls onto a greenstone (pounamu) boulder, which is seen as the symbol of land and sea as Maori legend goes.
A wide-screen multiple projection film greets visitors with the sight of a bird's flight across New Zealand's landscape. Visitors can continuously enjoy a dynamic bird's-eye view as the bird flies high, and a human-eye view when it flies back to the ground. In addition, there are a large number of touchable wide screens in the pavilion so that visitors can gather text and sound information by touching the screens.
The New Zealand pavilion was designed by Wellington-based Story!Inc., which handled the mega-hit film "The Lord of the Rings." The company has been involved in designing a number of development projects for museums, theme parks and sightseeing spots in various parts of the world. It recently organized the Lord of the Rings Exhibition held at the national Museum of New Zealand Te Papa Tongarewa.