Welcome to Aichi Prefecture!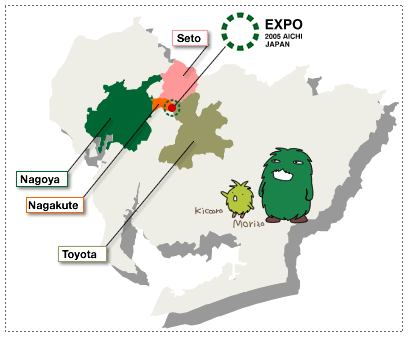 Favored by a mild climate, the fertility of the Owari Plain, which lies nearly in the center of Japan, and the bounties from the warm Kuroshio Current flowing in the Pacific Ocean along the Japanese archipelago, a rich culture has flourished in the Aichi region since the 7th and 8th centuries. And still today, many genres of traditional crafts and folk entertainment continue to live on in the daily lives of the people of Aichi.
In Aichi the visitor can feel the spirit of the successive periods of Japan's past and present-from the spirit of the many brilliant figures who shaped Japanese history and opened the way to an increasingly modern Japan out of the mystery-shrouded ancient and medieval Japan to the dynamism of leading industrial manufacturers that have helped build contemporary Japan.
Visitors can enjoy many beautiful scenes of nature, relish the local cuisine, which is created around the products of the sea, luxuriate in hot springs baths, appreciate traditional crafts, take part in outdoor activities and sports, or have fun at amusement parks. The whole family can experience all of these adventures here in Aichi. Brimming with attractions different from those found in Tokyo, Osaka, or Fukuoka, Aichi is one place you definitely won't want to miss the chance to visit.
On top of all this, surrounding Aichi are numerous sightseeing places offering a representative picture of Japan like Kyoto, Nara, Ise, Kanazawa, and Takayama, where many historical and cultural treasures, as well as the ambiance of traditional streets and buildings, still remain. Aichi is also not far from the spiritual heart of the Japanese people, Mount Fuji, and from Nagano Prefecture, which boasts many beautiful highland resorts.
Brief Information Close-up of Aichi
Prefectural Symbols
Flower : Iris
Tree : Red maple
Bird : Small owl
Sea product : Prawn
Population : 7,150,457 (as of June 2003)

Other data below is for fiscal 2002 (all Japan).
Volume of lumber and wood product shipments: No. 1
Value of industrial product shipments: No. 1
Value of commodity sales: No. 1
Value of gross agricultural production: No.5