Global Tram
The Global Tram is a pleasant mode of transportation that is battery-powered and operates over the Global Loop for a distance of approximately 2.6 kilometers. Each tram is composed of three cars.
Operating over the Global Loop, the Global Tram is a means of both enjoyment of the EXPO sights and transportation with high levels of convenience and comfort.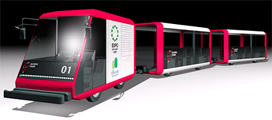 Appearance of the Global Tram (conceptual drawing)
All Global Tram trains offer wheelchair access.
Fare:
Adult and children (elementary school age 6 or older):
500 yen
Toddlers, infants, and disabled:
300 yen (holders of special discount admission tickets)
Maximum number of passengers per train:
52
Operating interval
North-South line:
about 13 minutes
East-West Line:
about 19 minutes
Maximum number of wheelchair passengers per train:
2
Travel time:
About 20 minutes per ride
There are four Global Tram stops on the Global Loop. A single ride (over two bus stop legs) covers about half of the Global Loop. When there are two wheelchair passengers, the wheelchairs may be no larger than 63 centimeters in width, 105 centimeters in length, and 92 centimeters in height.