Intelligent Multi-mode Transport System (IMTS)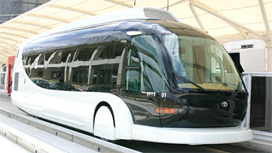 View of the IMTS
The Intelligent Multi-mode Transport System (IMTS) is a large low-emission bus vehicle that is fueled with compressed natural gas and operates automatically.
The IMTS operates in two segments, one joining the North Gate Station, West Gate Station, and Expo Dome Station, and the other, the West Gate Station and Convention Hall Bus Stop Station. It is a futuristic transportation system designed especially for EXPO 2005. It links two or three large, environment-friendly low-emission buses electronically without couplers for automatic operation in bus platoons.
All IMTS buses offer wheelchair access.
Fare:
Adult (junior high school age 13 or higher):
200 yen
Children (elementary school age 13 or lower) and disabled:
100 yen
Maximum number of passengers per bus:
50
Operating interval
Automatic operating segment:
10 minutes
Manual operation segment:
40 minutes
Maximum number of wheelchair passengers per IMTS bus:
1 (2 or 3 in bus platoons)
Travel time:
About 10 minutes (shortest distance one-way in the automatic operation segment)
A fare of 100 yen per person is applied for holders of documents certifying disability and people accompanying them.
The buses offer wheelchair access. However, for safety considerations, wheelchairs that are not equipped with brake locks for their wheels may not be allowed to board.