Eco-Money
- An Experiment in People-Friendly, Earth-Friendly Currency Eco-Money Project to be Launched at Expo 2005 -
- Accumulate Eco-Money by Helping the Environment! -
The Expo Eco-Money Project is a new and experimental social system designed to reduce CO2 emissions and protect the global environment by encouraging citizens to act in environmentally responsible ways. The Japan Association for the 2005 World Exposition will issue Expo Eco-Money points for environmentally responsible behavior. The project will be linked with citizen initiatives, such as the reduction of shopping bag use and the promotion of public transport, that contribute to the prevention of global warming and the development of a recycling society. The aim of the project is to use Expo 2005 as an opportunity to promote a citizen-led ecological movements that will lead to the formation of a society based on recycling.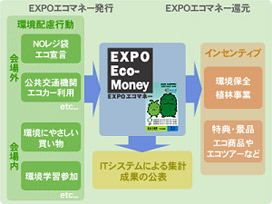 1. Overview
Under the Expo Eco-Money Project, citizens who demonstrate environmentally responsible behavior, such as the reduction of shopping bag use or the use of public transport, will earn Expo Eco-Money points that can be exchanged for benefits or goods in the same way as mileage points. They can also use their points to make donations to environmental conservation projects, such as tree-planting schemes. This experimental project will be used to test a new social system based on the circulation of environmental values, such as contribution to environmental conservation through tree-planting or other activities. The aim is to use Expo 2005 as an opportunity to encourage environmentally responsible behavior by citizens. People will be able to participate through a wide range of activities, both on-site and off-site.
2. IT System Introduced
A new system based on the use of IC chips (mu-chips) incorporated into Expo 2005 admission tickets will be introduced. Mu-chip readers will be installed at Eco-money issuance stations within the Expo site. These will issue Expo Eco-Money points by reading information onto the IC chip whenever the holder of the ticket engages in environmentally responsible behavior, such as the purchase of ecologically sound products or the avoidance of shopping bag use.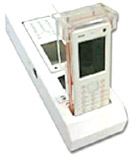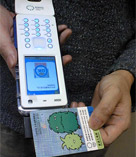 Participants will be able to check their Expo Eco-Money points using mobile telephones or computers connected to the Internet. They can use their points to enter competitions or donate them to tree-planting projects. Points earned off-site can be converted into Expo Eco-Money at the Expo Eco-Money Center located in Global Common 3 in the Nagakute Area.
3. Off-Site Project
- Take stickers and stamps earned for refusing shopping bags with you to Expo! -
Businesses that cooperate in the Expo Eco-Money Project outside of the Expo site are called "Supporters." A wide range of companies will be encouraged to become Supporters through general advertising. The following Supporters, including nationwide retail chains, are issuing stamps and stickers ("Shopping Bag Reduction Certificates") to people who demonstrate environmentally responsible behavior, such as the refusal of shopping bags. These certificates can be exchanged for Expo Eco-Money at the Expo Eco-Money Center.
Supporters' List (as of March 3, 2005)
City of Nagoya/Containers and Packaging 3R Promotion Association
City of Nagoya
TOYOTA City/Toyota Eco Life Club
Conference for the Promotion of the Gamagori Shopping District
Kato Corporation MOS BURGER-Division
SEIYU Group
Tokyu Tourist Corporation
VALOR CO., LTD.
MAXVALU CHUBU CO., LTD.
Matsuzakaya-store Co., Ltd.
Maruetsu, Inc./ Sunday Mart Co., Ltd
MEITETSU PARE INC.
YAMANAKA CO., LTD.
U. Store Co., Ltd.
UNY Co., Ltd.
* Includes shops that are working with existing local-government programs.
Shops acting as supporters will display the following posters.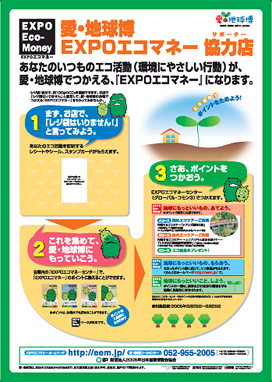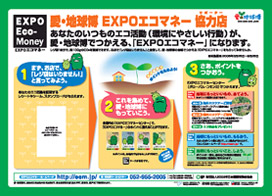 4. On-Site Project
5. Visual Portrayal of Project Benefits
The Expo Eco-Money System will be linked to an IT system that will provide a real-time visual representation of the results, including the number of participants, the number of points issued, and the reduction in CO2 emissions through the various eco activities undertaken. There will also be easy-to-understand data displays, including analyses of differences in the future global environment with and without eco activities by citizens. These can be viewed at the Expo Eco-Money Center or on-line at the Expo Eco-Money website. The target is to reduce CO2 emissions by 10,000 tons through such activities as the reduction of check-out bag use in stores operated by off-site Supporters.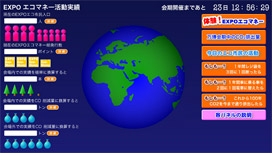 Information on the website includes visual representations of project benefits, and an entry corner for Eco competitions.
6. The Post-Expo Future of the Expo Eco-Money Project
After the completion of Expo 2005, the ideals of this project will be maintained by the Eco-Design Forum for Civic Society. The world of the 21st century needs a social environment that is kind both to people and the environment. This non-profit organization will work to create such a society by expanding the network of individuals committed to environmental concern and action.
7. For further information:
Expo 2005 Aichi, Japan
Call Center
052-955-2005

This information will be distributed to the Chubu Economic and Industrial Press Club, the Aichi Prefecture Press Club, the Economic and Industrial Press Club, the Ministry of Economy, Trade and Industry Pen Club, and the Aichi Club.