Using Expo Eco-Money
1) Entering Eco Competitions
For two Expo Eco-Money points, the holder will be able to participate in the following prize competitions. The entry methods and prizes are as follows.
* Prizes (tentative)
Overseas Eco Tours
Winners will be invited to participate in the Cairns Tree-Planting Journey, an overseas activity tour (3 nights, 5 days, 10 couples, total of 20 people)
Eco Tours in Japan
Winner will be invited to participate in the Toyota Shirakawa-go Nature School (1 night, 2 days, 20 couples, total of 40 people)
Eco Gifts
A total of 100 winners (number tentative) will receive Eco Gifts, such as Ministry of the Environment bags (tentative).
* Entry Methods
On-Site
To enter a competition, simply provide the necessary information on the appropriate form at the Expo Eco-Money Center.
Off-Site
There are two ways to enter competitions off-site.
Via the Internet
Entries can be submitted using a computer or mobile telephone. The address is as follows.
By postcard
An entry postcard is included in the pamphlet. Simply enter the necessary information, attach a 50 yen stamp, and mail it.
2) Eco Gifts
Holders of five or more Expo Eco-Money points can exchange their points for the following gifts at the Expo Eco-Money Center.
* Examples of gifts (Detail planning concerning points and gifts is still in progress.)
100 points

Biomass plastic goods (T-shirts, polo shirts, etc.)
Nanotechnology development goods (environment-friendly underwear, etc.)
Recycled resin products (T-shirts, etc.)

40 points

Biomass plastic goods (mobile telephone straps, biomass plastic study kits, etc.)
Recycled ceramic products

20 points

Eco-Mark products (stationery, etc.) 5 points
Products made from thinning wood (bookmarks, etc.)
3) Donating Points to Environmental Conservation Programs
Holders can donate their points, including left-over points that cannot be used, to environmental conservation programs, such as tree-planting projects. The Japan Association for the 2005 World Exposition will support environmental programs in proportion to the numbers of points donated. Corporate sponsors are currently being sought for these environmental conservation programs.
4) Expo Eco-Money Center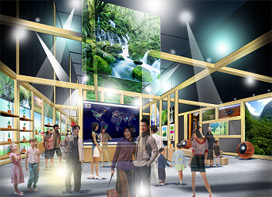 The Center is located in Global Common 3. It provides the following services.
Information about the Expo Eco-Money project
Conversion of off-site Eco-Actions into Expo Eco-Money
Redemption of points for competition entries and eco goods
Location
Global Common 3
Hours
From 11:30 to one hour before site closure