Fast food
Popular because of their casual atmosphere and cheap prices, fast food restaurants have opened in great number and variety in Japan. Payment is almost always by cash.
Hamburger shops
Internationally-known hamburger chain restaurants can be found in any city anywhere in Japan. There are also medium- and small-size domestic hamburger chains, and these shops have opened up in supermarkets and train station buildings. Some bakeries sell hamburgers, along with their various types of bread, and also offer bagels, sandwiches, and pastries, with some providing inside space for eating and drinking. Many of these bakeries also serve coffee, tea, soup or other beverages. At such places, customers put the items they have selected on a tray, order the drink they want at the cash register and then pay. These shops make very convenient places to have breakfast or a simple lunch.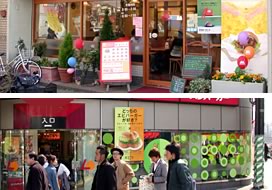 Ramen shops
A bowl of ramen can be easily had for around 500 yen. Ramen is very popular among Japanese, and there are many ramen shops around Japan. Some well-known shops are so popular that customers must line up in front of the shop to wait to get in. The taste of the soup and type of noodles vary according to region. A great variety of condiments can be used, but typical toppings are chashu (barbecued pork) and menma (pickled bamboo shoots). Many regions have their own particular types of ramen, and it is interesting to compare the fare of different shops. In addition to ramen, many shops offer fried rice, gyoza, and other dishes in the 500 to 1,000 yen price range.

Udon and Soba shops
The simplest soba dishes are kake-soba (soba in a hot soup) and zaru-soba (cooled soba served with a cold dipping sauce), and they cost around 500 yen, as do most udon dishes. Ten-don (tempura shrimp served over steamed rice) and other rice dishes are on the menu of many shops, and the size of the helping can be chosen in some shops. Payment is made after eating in many shops, but some more casual and cheaper shops have a ticket system, where the customer buys a ticket for the dish he/she wants at a ticket machine and then hands the ticket to the shop employee.
Usual soba and udon shops have two designations, nami (standard volume) and omori (large volume), for the size of the helping, and since the prices are different, customers should confirm the size when ordering.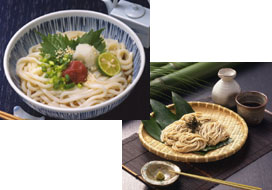 Donburi shops
A donburi is a ceramic bowl about the size of two cupped hands, and donburi , or donburi-mono , is also the name of a simple and cheap dish which consists of some foods like meat placed on top of rice served in a donburi bowl. "Cheap, fast, and good," donburi dishes are Japan's traditional fast food, and they have remained very popular as luncheon fare for businessmen.
Gyudon , which is the most typical donburi dish, is thin slices of beef and onions simmered in a sweet and spicy shoyu -based broth and then served on hot rice in a donburi bowl. Nationwide gyudon chain shops can be found in any Japanese city. Diners can get an ample meal at one of these gyudon shops for around 500 yen, even including miso soup and pickled vegetables (tsukemono ).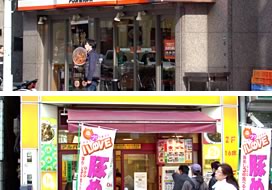 Ten-don , tempura on rice, and oyako-don , a mixture of chicken simmered in a shoyu -based broth and egg on rice, are also popular donburi dishes and cost from 500 to 1,000 yen. They are excellent for lunch and are served at soba or udon shops. Maguro-don , tuna on rice, and kaisen-don , various kinds of seafood on rice, are in the 1,000-yen range and are served at sushi shops. Many shops allow customers to indicate whether they want a normal or large serving, as well as to take out orders.
Kaiten-zushi
Kaiten-zushi-ya are very unique restaurants. Plates of different kinds of sushi are placed on a belt that revolves around the counter. When a plate of sushi the customer wants comes by, she picks it off the belt by herself. Plates are either a uniform 100 yen each or the price is decided by the color of the plate (usually from 200 to 300 yen a plate). When the customer is ready to leave, the number of plates is counted and the customer pays. In some kaiten-zushi-ya plates of cake, pudding, or fruit circulate on the belt, making them popular among children. Miso soup, beer, sake, and cold soft drinks can also be ordered, and tea is offered free of charge.
Curry shops
At chain curry shops, chicken, pork, beef, and other common curry dishes are available for around 500 yen, and take-out service is possible. The size of the helping can also usually be specified.
Tachi-gui shops
At tachi-gui shops, which mainly target busy businessmen, customers stand while eating cheaper dishes such as udon, soba, ramen, or curry. Most dishes are under 500 yen, and they come soon after ordering. Tachi-gui shops are also found inside station buildings or on train platforms, and most use a ticket ordering system

Yatai
Yatai are movable food stalls. Often found under railroad overpasses or along streets, they usually operate from dusk until late at night. Yatai commonly offer oden, yakitori, or ramen, and dishes are usually around 500 yen each. Beer and sake are also often served.
Tako-yaki , Okonomi-yaki , Yaki-soba shops
Light snacks,tako-yaki are balls of water- or broth-based flour batter containing bite-size pieces of octopus (tako ) that are cooked in a special iron grill with round molds and then glazed with a sauce. A package of five or six balls is around 300 yen.

Okonomi-yaki is a thick pancake-like mixture made from flour and water (or broth) containing ingredients the customers like (okonomi ) such as pork, seafood, onions, and so on, with some shops adding eggs or Chuka-soba (Japanese-style Chinese noodles). There are many okonomi-yaki shops in Japan, and prices are usually around 500 yen per dish.

Yaki-soba is a stir-fry of boiled Chuka-soba , vegetables, meat, or seafood. One dish is around 500 yen. Yatai sellingtako-yaki , okonomiyaki , andyaki-soba can often be seen at festivals or temple fairs, and these foods are also sold at supermarkets and at shops in train station buildings. Okonomi-yaki restaurants are especially popular among young people and families with children.