Proposals Welcome for Civic Participation Programs at the Convention Hall
Limited-Period Programs to Be Organized
Over the two-month period of February 25 to April 30, the Japan Association for the 2005 World Exposition is soliciting proposals for civic participation programs to take place at the Convention Hall in the Fun and Culture Zone within the Youth Park Area. (Click here for an outline of proposal solicitation.)
The Convention Hall is a time-share type of pavilion where programs will run for limited periods of time. With attractive programs approaching the EXPO 2005 theme from unique perspectives in its offerings, the pavilion creates a multilateral approach to the theme and sub-themes of the Expo.
Although a number of programs have already been planned, the Association is soliciting proposals to offer broader opportunities for participation to organizations with enthusiasm for expressing the EXPO 2005 theme in action.
With a broader range of participation and convergence of ideas, networks, energy, and expertise of various organizations, the Association hopes to build this project into something worthy of the first world exposition to be held in the 21st century.
[For your reference]
Programs already organized and scheduled
Program organizer / Direction in theme implementation

Nagoya Chamber of Commerce / manufacturing by dynamic and technologically competent SMEs participating in the Expo
Japan Patent Office #1 / Inventions & dreams
Chubu Regional Bureau, Ministry of Land, Infrastructure and Transport & Japan Civil Engineering Contractors' Association, Inc. / Coexistence with the environment in cities, roads and water
Aichi Bloc Council, Tokai Region, Japan Junior Chamber, Inc. / The challenge of building the future through messages from children
Japan Science Foundation / International Youth Science Festival #2
* Other programs under study independently by the Association.
#1 (Under consideration)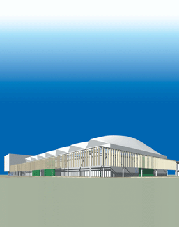 Outline of proposal solicitation
1. Proposals accepted
(1) Program content: Program based on the theme/sub-theme of the Exposition (However, participation aimed at promotion of a specific country, religion, business enterprise, etc., will be refused.)
(2) Duration of program: Generally two to four weeks (including the number of days required for installation and evacuation)
(3) Program scale: * Effective exhibition floor area: Approximately 1500 sq. m.
* Fee: 300,000 yen/day (same fee per day required for days of the installation and evacuation; utility expenses for electric power, water, sewage service, etc., must be paid separately)
(4) Type of program: Exhibition, forum, live performance, video presentation, workshop, etc., that appeals to a wide range of people, from children to senior citizens, that is worthy of the Expo.
2. Qualifications:
Program organizer or a proxy who satisfies the standards established by the Association (click here for details).
3. Deadline for acceptance of proposal:
Proposals accepted from February 25, 2003 (Tues.) to April 30, 2003 (Wed.) (excluding Saturdays, Sundays, and national holidays)
Business hours: 9:30 a.m. - 5:30 p.m. (on February 25th only, 4:00 to 5:30 p.m.)
4. Screening process:
Submitted documents will be screened by a Screening Committee including experts.
(1) Key items in screening:
"Viability of theme deployment", "popular appeal and attractiveness of program content", "innovativeness of activity", "public-service nature of the program content", "significance as message to a wide range of generations, including children", "reliability in program execution", and "rationality in program date and scale".
(2) Announcement of screening results
Applicants will be notified of the results in July 2003. An announcement will also be made on this website.
5. For more information, contact:
Convention Hall Application Office for the 2005 World Exposition, Aichi, Japan
Japan Association for the 2005 World Exposition, Aichi, Japan
5-27 Nishiki 3-chome, Naka-ku, Nagoya, Aichi 450-0002 JAPAN / Phone: 052-961-3230
8-18 Akasaka 4-chome, Minato-ku, Tokyo 107-8417 JAPAN / 03-3478-7143
E-mail: jimukyoku@convention-expo2005.jp

Click here for details on the solicitation.
PDF file (3.8 MB)
#2 revised on March 4, 2003, differs from the initial news release