EXPO2005 INTERNATIONAL FORUMS

Culture and Biological Diversity and Internationally Common Recognition
| Overview 

| Introduction 

| Keynote Speech 

| Panel discussion 

|
******* Summary *******
Following the greeting from the organizer, we entered into the keynote speech after coordinator's explanation of the purpose of the forum and the theme.
Introduction
Coordinator Shin-ichi Takemura (Professor, Kyoto University of Art & Design):

The meaning of the word "diversity" now has a new perspective. Human beings found that diversity on Earth is the rare asset of space. We are now beginning to understand from the study of life science and world history that the amplification of diversity is the principle of life and that it is "Nature's Wisdom" itself, the theme of the Exposition.
That diversity, however, is on the verge of crisis. Destruction of the environment today causes the loss of gene pools, for which genetic engineering cannot compensate. "Industrialized Production of Life" in the industry of agriculture and livestock is also a serious problem that we now face.
A world that has lost diversity is very vulnerable and unstable. This is clearly illustrated by mono-cultural agriculture, which is very weak for harmful pests, and the occurrence of BSE. The same vulnerability is seen in homogenized social systems and in the direction of the global economy. These lessons teach us that only diversity ensures true sustainability and security.
We have previously thought lightly of diversity and created a universal world as a result of our search for ideals and justice. Trying to find a universal life-saving way surpassing climatic and cultural restraints (diversity) has been the basic tone for the progress of civilization over the past 150 years and the central message of expositions as instruments of enlightenment.
The theme of cultural and biological diversity not only expresses a crisis of global environment in this way but it also leads to rethinking the ideals of mankind and the whole paradigm of civilization. As a pioneering case in such an age, we would like to learn about the Slow Food movement in Italy.
Keynote Speech
Giacomo Mojoli (International President's Committee member of Slow Food / Honorable President of Slow Food Japan):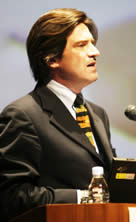 The Slow Food movement is nothing short of a movement to preserve biological diversity. The movement leads to preserving varieties of agricultural crops and serving superior quality food.
As many as 300,000 plant varieties have disappeared over the past century—one variety disappears every six hours. Seventy-five percent of varieties of agricultural crops have disappeared since the early 20 th century and most of the world population lives on agricultural crops of less than 30 varieties. If there were such few books in the world, could we live in such a world?
The daily food we eat has the history of the country and the life of the nation behind it, including people's respect for and view of nature. And food-oriented communities which are full of treasures of wisdom are strategic, cultural and economic pivots when we write the scenario of a new society. The greatest movement, however, has been towards mass produce with fewer varieties. As a result, many varieties have actually disappeared, and wisdom and tradition have been lost.
It is necessary, therefore, for us to build up a new model in order to give vitality and pride to farming villages. For this purpose, we need to involve a variety of learning. In order to carry it out, we have started a project to preserve cultural genes called "Ark of Tastes" as well as a system where we protect and reward small-scale farmers and leaders of rare food culture.
World concern is changing from business to environmental problems. I believe that, if each person thinks of food, it would help in developing the world and harmonizing the development of environments.