Art Program
DIVERSE WAYS OF HAPPINESS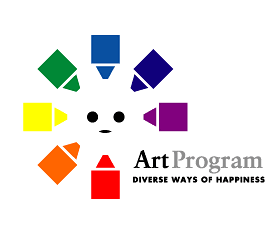 The Art Program, which is the official event of EXPO 2005, introduces works by young artists representing today's world and serves a bridge to the innovative culture of the 21st century. The artists, who were born after 1970 and grew up in a new era where existing values and ethics dramatically shifted, will present their ideas in a form of sculpture and photography in seven different locations within the EXPO grounds.
This Art Program is promoted and operated by Shinya Izumi, General Producer of EXPO 2005, and curated by Mr. Tsutomu Okada (Spiral/Wacoal Art Center).
Area Map of Art Program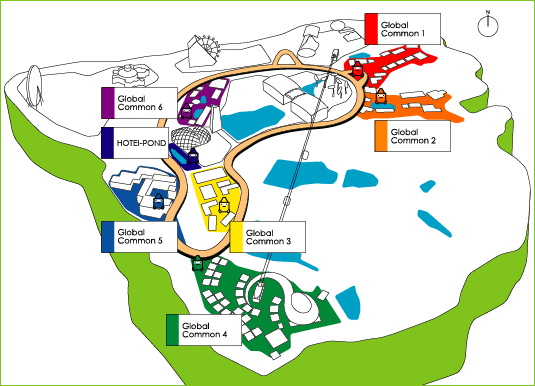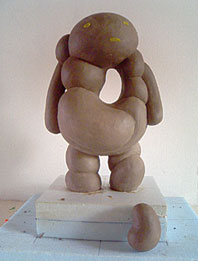 A 6 meter-tall gigantic sculpture made of multiple parts. Looking at a distance with some parts missing, the artwork projects a message that life is precious because each of us is different and incomplete. It will lead you to the "search of happiness".
Risa Sato (Japan)
1972 Born in Tokyo, Japan 1999 M.F.A., Tokyo National University of Fine Arts and Music Noted for her unique communicative approaches, she has performed various incarnations of her Risa Campaign series in various locales in Japan and abroad.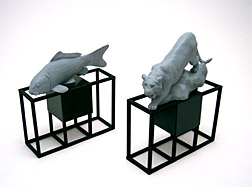 A fierce tiger and a swelling carp, both having a sacred image and story, are covered with transparent beads. The artworks symbolize the dialogue between modern-day humans and animals historically depicted with significant meanings.
Kohei Nawa (Japan)
1975 Born in Osaka, Japan 2003 D.F.A. in sculpture, Kyoto City University of Arts Using glass beads and prizm boxes, he examines the true essence of various materials by altering the looks and feeling.

THE TREE OF A PUBLIC GARDEN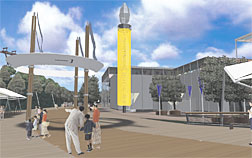 Over 5000 dolls representing human are hung from a 20 meter-high light pole. The scene of countless dolls ascending to heaven reflects the difficulty and the importance of respecting indivisuality in a standardized society.
Han Zin-Su (Republic of Korea)
1975 Born in Republic of Korea
1999 M.F.A. in sculpture, Hongik University
Known for his installations composed of repeated pictographic human figures en masse.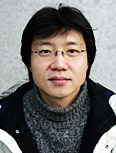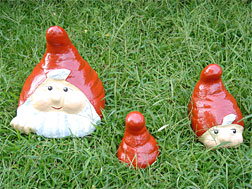 Large-sized dwarf fairies modeled after a mascot Europeans commonly display in their yards. The fairies will be keeping their eyes on us humans and the nature as we all gather around at the square.
Ivana Falconi (Switzerland)
1970 Born in Locarno, Switzerland
Graduated Centro Scolastico per le Industrie Artistiche (Locarno) and Accademia di Belle Arti di Brera (Milan)
Known for her various installations addressing the problems of war, economics, interpersonal and other frictions.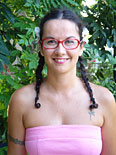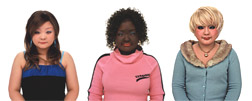 Her work consists of a gigantic portrait of herself disguising as 12 different people, suitable to this international environment. It addresses the importance of love-sharing and co-existing among all human beings, regardless of nationality or ethnicity.
Tomoko Sawada (Japan)
1977 Born in Hyogo Prefecture, Japan
2001 Graduate research Seian University of Art and Design
Through various guises, she expresses herself with a humor that asks viewers to examine the ambiguous relation between outward appearance and inner reality.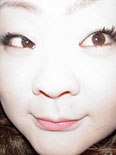 Having the basics for living ? sufficient food and sleep ? is the gateway to happiness, artist says. Her photographic work beside the pond depicts a savage world full of human beings and animals, creating a rendition of nature replete with a love that human powers will never surpass.
Tea Makipaa (Finland)
Born in Finland, 1973
2003 MFA, Royal College of Art, London
She expresses her critical viewpoint of our every day society through various forms of artwork.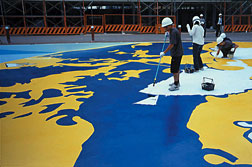 This work consists of 4 paintings of bright colored World Map, changing the size, shape and location of countries, on the floor of a pond that brings visitors in direct contact with water. The work addresses the relationship and issues between "water and countries".
Federico Hererro (Republic of Costa Rica)
Born in Costa Rica 1978
1996-2001 Studied architecture at Universidad Veritas, San Jose; painting at Pratt Institute, New York
He examines the relationship between viewer/user of the space and painting by creating project-specific works.