Clock gears made of wooden "plastic"
- Chubu Community for Millennial Symbiosis -
The Chubu Community for Millennial Symbiosis will present a technology that enables the use of wood to make gears, which require particular strength and precision.
The technology features a new material called "wooden 'plastic.'" Although composites of wood and plastic have already been developed, EXPO 2005 Aichi, Japan will introduce clock gears created with wooden "plastic," made of 100 percent wood. To make these gears, wood waste and chips are used. These materials are heated at 200°C in a high-temperature steam boiler, to break down the wood fibers. The resulting material is dried and powdered. The powder is then re-heated and pressed into disc-shape. Characteristically, when heated these powders liquefy like paste, and when cooled, they solidify like plastic. Finally, teeth are cut into the edges of the discs, to create gears. There is little difference in strength between gears made of wooden "plastic" and those made of conventional plastic.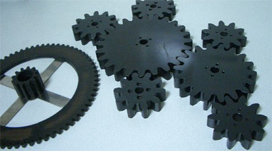 Wooden "plastic" gears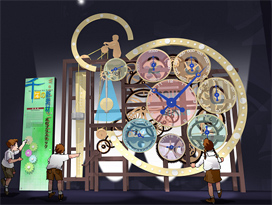 Rendering of "Millennium Clock"
These gears will be used in a large millennium clock to be exhibited at the Chubu Community for Millennial Symbiosis. The gears are between 100 and 900 mm in diameter. A total of 55 gears will be used, all created using the above-mentioned technology, which enables the recycling of wood waste, conventionally disposed of by incineration. Waste materials that can be recycled using this technology include not only wood shavings and scrap from wooden furniture manufacturers, but also timber from forest-thinning and construction waste wood. Wood debris generated in cutting the gear teeth can itself be directly reused as raw material for wooden plastic. As well, old wooden-plastic products can be crushed for reuse, or turned into soil. Consequently, almost no waste is generated in the process of manufacturing these gears; this technology is very environment-friendly.
Please also visit the "Chubu Community for Millennial Symbiosis" website.