Modules created on the premise of reuse
- Global Commons -
The Global Commons, which showcase the exhibitions of official participants (countries and international organizations), serve as stages for a "Grand Intercultural Symphony," linking many different cultures and peoples in exchange transcending national and cultural boundaries. There are six Global Commons, in which pavilions of official participants are grouped according to continental geography. These Global Commons are connected by the Global Loop. In each Global Common, exhibition facilities have been designed to provide a systematic space, creating landscape as plaza.
In the conventional world expositions of the past, participating countries freely constructed original pavilions based on their own ideas. However, to ensure that these pavilion buildings can be easily reused, the Organizer of EXPO 2005 Aichi requested that all participating countries set up their exhibition facilities within standardized modules, each of which is 18 meters long, 18 meters wide and 9 meters high, constructed and provided by the Association. Each country can display its own originarity in the exterior and interior decoration of the pavilion, under certain rules. The number of modules used varies depending upon the exhibition scale of the participating country. In some cases, a single module is shared by multiple countries; in other cases, a singule country could use up to five modules in combination. The modular building system is also cost-effective, enabling many more countries to participate in EXPO 2005 Aichi.
After closure of the Exhibition, these modules will be broken down for future reuse. For example, they may be reused as warehouses or for storage of building material etc. The percentage of reusable members is expected to be far higher than when pavilions are designed and constructed by countries in an inconsistent manner. Modular construction is also a new approach, to avoid the production of a huge amount of building scrap. It can be said that, although seemingly modest, the modular building system aiming at the "Three Rs" is a visionary approach to the coming age, when environmental preservation will be all the more important.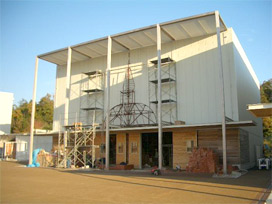 Single-module pavilion of a participating country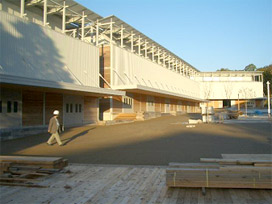 Participating country pavilion set up by combining several modules