Robot Project: Working Robots
Sanitation Robots
Manufacturer(s)

Fuji Heavy Industries Ltd.
Matsushita Electric Works, Ltd.

Work Area(s)

Global Loop
West Terminal
These robots will select their routes and clean exterior floors on automatic drive while avoiding obstacles. The work will be conducted during the night hours after closure.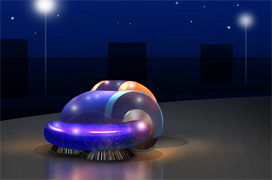 Cleans exterior floors in late-night hours after closure
| | |
| --- | --- |
| Manufacturer(s) | Fuji Heavy Industries Ltd. |
| Work Area(s) | Food Court adjacent to EXPO Plaza |
These robots will safely drive on automatic control to the garbage bins and replace them with new ones without running into passersby.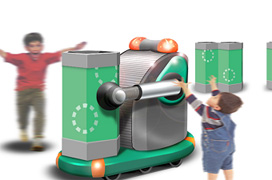 Collects full garbage bins and replaces them with empty bins
Manufacturer(s)

Sohgo Security Services Co., Ltd.
Tmsuk Co., Ltd.

Work Area(s)

Global Commons 1-6
The vicinity of the robots will be policed by remote surveillance. The robots will detect fire with their built-in sensors and remove suspicious objects by remote control.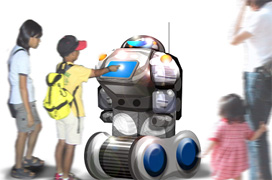 Patrols venue with remote surveillance and fire detection functions; also guides visitors in daytime
Manufacturer(s)

Advanced Media, Inc.
Kokoro Co., Ltd.
Mitsubishi Heavy Industries, Ltd.

Work Area(s)

General information centers (north, east, west)
Reception desk, EXPO Headquarters
These robots will give site information to visitors with their conversation skills in four languages (Japanese, English, Chinese, Korean), and will receive visitors to the Expo Association.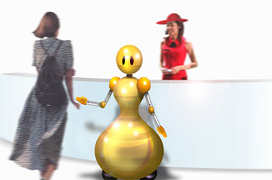 Guides visitors at Association headquarters and information desks in 4 languages
| | |
| --- | --- |
| Manufacturer(s) | NEC Corporation |
| Work Area(s) | Robot Interaction Room (in Robot Station) |
These robots will interactively play and talk with children, recognizing each child through their personal identification and voice identification functions.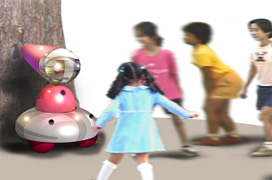 Plays games with children using personal identification functions; mediates calls with parents in distant locations
Manufacturer(s)

Aisin Seiki Co., Ltd.
Fujitsu Ltd.

Work Area(s)

Wheelchair Experience Course (outside Robot Station)
These robots will safely transport passengers to their destination on automatic control while avoiding obstacles.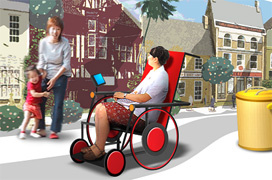 Drives automatically to destination, avoiding obstacles; can be experienced on dedicated routes by anyone