What is the "Art Program" of EXPO 2005 AICHI JAPAN?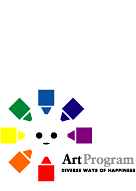 35 years after EXPO 1970 OSAKA, the symbolic event of Japan's high-growth period, EXPO 2005 will be held under the theme of "Nature's Wisdom", aiming to pursue a sustainable and harmonious coexistence for all life on Earth.
The Art Program, which is the official event of EXPO 2005, introduces works by young artists representing today's world and serves a bridge to the innovative culture of the 21st century. The artists, who were born after 1970 and grew up in a new era where existing values and ethics dramatically shifted, will present their ideas in a form of sculpture and photography in seven different locations within the EXPO grounds.
This Art Program is promoted and operated by Shinya Izumi, General Producer of EXPO 2005, and curated by Mr. Tsutomu Okada (Spiral/Wacoal Art Center).