Use of Hybrid Communicator at EXPO 2005 Is Announced
AI-MATE, Designed and Developed by KDDI, Harmonization of Cellular Phone, PDA, and Wireless Technologies
The Japan Association for the 2005 World Exposition will utilize a hybrid communicator that brings together the capabilities of cellular phones and personal computers at EXPO 2005 Aichi, Japan, which will take place from March 25 to September 25, 2005, in Aichi Prefecture. The device, nicknamed "AI-MATE," was commissioned by the Japanese Ministry of Economy, Trade and Industry.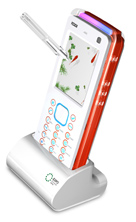 There are two types of AI-MATE: AI-MATE Orange, with cellular phone and other communications capabilities, and AI-MATE Blue, with the μ-Chip reader. A total of 3,800 AI-MATE Orange sets and 1,200 AI-MATE Blue sets will be used.

AI-MATE Orange sets will be available for the disabled at the Japan Pavilions to assist them in getting around and understanding the displays. Guidance will assist them by the form of voice according to the location of the user.
AI-MATE Orange will also provide operational support for pavilion attendants and staff, who will be able to place calls, send e-mail messages to groups of people simultaneously, retrieve Internet information, and use address books for business contacts. They can also obtain real-time information on congestion at specific pavilions, transportation services, and upcoming events relevant to the Expo operations, as well as guide maps and other information stored on an internal memory card to provide accurate and precise guidance for visitors.
AI-MATE Blue sets will also be available for visitors to Japan Pavilion Nagakute to provide Anywhere Japan Pavilion, enabling them to get detailed information on exhibits after their return home. To take advantage of this service, visitors are requested to access the Japan Pavilion on the Web (http://www.nippon-kan.jp) in advance and submit an application. Upon arriving at Japan Pavilion Nagakute, they can register the names of exhibits that interest them by AI-MATE Blue. Back home on their computer, they can retrieve more detailed information on the displays by accessing the Japan Pavilion on the Web.
AI-MATE Blue can also be used by the staff to confirm reservations to the pavilions, since it is capable of reading the μ-Chip embedded in the EXPO 2005 tickets.
AI-MATE Orange and AI-MATE Blue will both be used to keep track of "EXPO Eco-Money" points, which are distributed for environmentally and friendly acts at the Expo. Under current plans, the purchase of eco-friendly products at foreign-country pavilions and the use of one's own bag instead of a plastic bag when shopping will be awarded with points. The points accumulated can be exchanged for eco-friendly products or designated for use as donations for groups engaged in environmental activities.
In collaboration with university research labs, IT-related high technology experiments are scheduled to be held.
It is expected that AI-MATE can offer a vision for next-generation information technology and communications systems through its use at EXPO 2005 Aichi and turn the event into a global trendsetter in new telecommunications technologies.
AI-MATE was designed and developed by KDDI Corporation, a Japanese telecommunications firm based in Tokyo.
Please refer to the accompanying document for details on Ai-Mate.
For further information
Japan Association for the 2005 World Exposition
Japan Pavilion Department
Matsumoto Tel: +81-56-161-7313
Public Relations and Advertising Group
Kato or Nakata Tel: +81-56-161-7302