Summary of plans for the opening ceremony
Seeking to provide the impetus for the creation of a new culture and civilization under the theme "Nature's Wisdom," EXPO 2005 will take place over 185 days from March 25 to September 25 in Nagakute Town, Toyota City, Seto City, which are located in the Nagoya Eastern Hills.
On March 24, the day before the start of EXPO 2005 AICHI, JAPAN, an opening ceremony will be held in the EXPO Dome to mark the inauguration of the event, which also has the distinction of being the first World Exposition of the twenty-first century.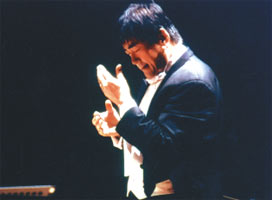 The first part of the ceremony will follow the protocol for World Expositions, and present an opening message. The second part will feature an orchestral performance of EXPO 2005 Symphony. During the third part, a special program called "Welcome to EXPO 2005 AICHI, JAPAN" will be staged to transmit the message of the EXPO 2005 in a dynamic synergy of music, screen images, and theatrics.
A producer team has been specially formed to take charge of the performances, and the knowledge and ideas of young artists and others active in a variety of fields around the globe will be incorporated into the plans.
The EXPO Super World Orchestra has been formed for the purpose of performing at the opening ceremony. Made up of classical musicians from around the world and conducted by Sado Yutaka, a member of the producer team, the orchestra will enliven the atmosphere of the opening ceremony with a breathtaking, world-class performance of a full-length symphony, EXPO 2005 Symphony, in the second part and of other works throughout the rest of the ceremony.
The inauguration of EXPO 2005 will be transmitted to the world in the form of an inspiring program that vividly evokes images of the event's message: In 2005, the world will gather together in Aichi Prefecture. There, we can weave together a fabric for a new global society; we can stand together, exchange smiles, and share the wisdom of the world, felt and enjoyed with all our senses and experienced with our whole being.
Outline of plans
Aim of the opening ceremony performances
Producer Team
Orchestra