The First Meeting of the Commssiones General of Section
The first meeting of the Commissioners General of Section of the 2005 World Exposition, Aichi, Japan was held in Nagoya on November 18 and 19, hosted by Taizo Watanabe, the Commissioner General of EXPO 2005,
The purposes of the meeting were: (1) to report on the state of preparations for EXPO 2005 and explain the rules to official participants countries and international organizations that have announced their participation and contribute to their preparations through group and individual meetings; (2) to establish the Steering Committee (choose the President and members of the Steering Committee), and build friendly relations between the Commissioners General of Section who represent the official participants; (3) to familiarize the official participants with Aichi through the introduction of Japanese hospitality and culture, and bring them closer to this prefecture.
The 280 people attending the meeting included Vicente Gonzalez Loscertales, Secretary-General of the International Exhibitions Bureau (BIE) and representatives of 95 participating countries and five international organizations. Representatives from host nation Japan included officials of the Ministry of Economy, Trade, and Industry, the Ministry of Foreign Affairs, and the Japan Association for the 2005 World Exposition.
Explanations were made of the overall plan of the Exposition - the basic philosophy, policies governing operations, assistance for developing countries, and rules to be applied to official events, including National Days.
Clarifications were also made on technical matters, such as commercial activities at EXPO venues, insurance, and customs procedures. Many questions were raised by participants, and fruitful and informative exchanges of views were held.
Participants also made a tour of the Nagakute Area of the EXPO 2005 site on November 19.
Prior to the tour, Bernard Testu, the Commissioner General of France, was elected as President of the Steering Committee, which will work with the EXPO 2005 Association to coordinate the views of the official participants. The Steering Committee will tentatively consist of 14 Commissioners General, who were also designated at the meeting.
The second meeting of the Commissioners General of Section is scheduled to be held in October 2004, a half year before to the start of EXPO 2005.
| | | |
| --- | --- | --- |
| Loscertales, Secretary-General of the International Exhibitions Bureau (BIE) | | Watanabe, the Commissioner General of EXPO 2005 |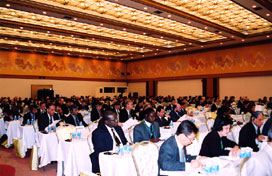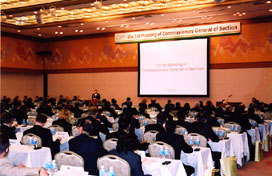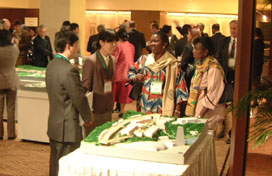 Display of site miniture model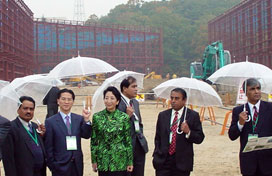 Site Tour
Reception on Nov. 17 & 18