EXPO 2005 to Feature Futuristic Transit Systems
The Japan Association for the 2005 World Exposition and Toyota Motor Corporation (TMC) announced today that they have agreed on a joint project to provide on-site transportation for the 2005 World Exposition, Aichi, Japan using advanced transportation technologies.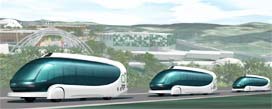 The movement of visitors within EXPO 2005's Nagakute area will be facilitated by TMC's Intelligent Multimode Transit System (IMTS), which features non-mechanically linked vehicles moving in platoon formation. Meanwhile, hydrogen-powered fuel cell hybrid buses developed by TMC will aid movement between the Nagakute and Seto areas.
Under the agreement, TMC will develop and supply the vehicles, while the Association will develop related infrastructure and operate and manage the system. As this project will involve the first full-scale operation of the rail-less but train-like IMTS, the Association has obtained railroad-operation permission from the Japanese government.
As the aim of EXPO 2005, to be held from March 25 to September 25, 2005, is to propose a new global social model for the twenty-first century, the Association had been studying futuristic, eco-friendly transit systems that would be safe, comfortable, and pleasant to ride. TMC, meanwhile, was keen to offer people firsthand experience of IMTS as a next-generation urban transit system and of the efficiency and potential of fuel cell vehicles.
With work underway by Aichi Rapid Transit Co., Ltd. to initiate Japan's first magnetically levitated linear motor car service (High Speed Surface Transport, or "Linimo") as a means of access to the Nagakute area, the use of IMTS and fuel cell hybrid buses will enable EXPO 2005 visitors to experience futuristic mass transit systems traveling to, between, and within the event's exhibition areas.
IMTS is based on the latest Intelligent Transport Systems technology and allows the unmanned, automatic, and platoon operation (multiple units running in file formation at unified speeds) of buses on dedicated roads, as well as their manual operation on ordinary roads. The system combines the punctuality, speed, and capacity of trains with the economic efficiency and flexibility of buses.
The fuel cell hybrid bus operates on motors powered by high-pressure hydrogen-supplied fuel cells and a nickel-metal hydride secondary battery. Unlike gasoline- and diesel-fueled vehicles, it does not emit carbon dioxide or other toxic substances and is highly energy-efficient and quiet.
Press Release