The sequence of the complete mitochondrial DNA of the Yukagir Mammoth has been determined!
June 17, 2005
- Mammoth was more closely related to Asian elephant than African elephant -
Japan Association for the 2005 World Exposition supports international joint research project on the Yukagir Mammoth, which is one of major exhibits of EXPO 2005. In this framework of international joint research, joint molecular-genetic investigation of the Yukagir Mammoth are conducted based on agreement between Institute of Applied Ecology of the North of the Academy of Sciences of the Sakha Republic (Yakutia), and Yakut Scientific Center of Russian Academy of Medical Sciences and the Government of the Republic of Sakha,, and Laboratory of Geobiology, Department of Earth and Planetary sciences, Graduate School of Environmental Studies, Nagoya University.
Background:
The African and Asian elephants and mammoth diverged ca. 4-7 million years ago in Africa. Their phylogenetic relationship has long been controversial and is not yet been settled. Morphological studies based on dental and skeletal characters have suggested a mammoth-Asian elephant relationship, while molecular phylogenetic studies favoured a mammoth-African elephant relationship. All of these molecular studies have been made using a short sequence of the mitochondrial cytochrome b gene (242-1137 bp), with the addition of a 12S rRNA gene sequence (960 bp).
Result:
1. We determined the sequence of the complete mitochondrial DNA (16853 bp) of the Yukagir mammoth (Mammuthus primigenius). This is the first determination of the complete sequence of the mitochondrial genome from an extinct organism of pre-historic age.
2. This sequence was compared with the complete mitochondrial DNA of eight Afrotherian mammals; African and Asian elephants, dugong, hyrax, aardvark, elephant shrew, golden mole and tenrec, and one Xenarthran mammal, armagillo. The Bayesian, maximum likelihood (ML) and neighbor joining (NJ) phylogenetic analysis based on the 3386 amino acid sequences (12 mitochondrial proteins), 1744 bp of mitochondrial DNA sequences (12S + 16S rRNA), and 246 nuclear gene sequences (concatenated sequence of vWF,A2AB and IRBP gene flagments) produced the same topology for the Elephantid clade and revealed a sister group relationship of mammoth and Asian elephants with very high Bayesian posterior probability (98-100%) and high bootstrap support (56-99%). Our large molecular data confirmed at the first time in the molecular phylogeny that the mammoth was more closely related to the Asian elephant than the African elephant.
3. Our data also estimated that the separation of the Loxodonta (African elephant) lineage and the Mammuthus (mammoth)–Elephas (Asian elephant) split can be dated as 7.3 and 4.8 million years ago, respectively, using a divergent time estimation method under a probabilistic model of rate evolution.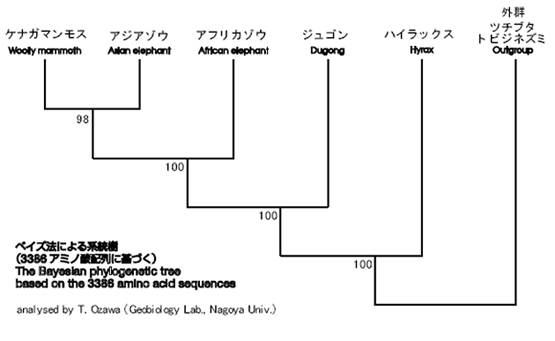 Chronology:
November, 2004
Agreement on joint molecular-genetic investigation of the Yukagir Mammoth were signed in Yakutsk.
Soft and bone tissue samples were collected jointly in Yakutsk
March, 2005
Samples for DNA analysis arrived to Japan.
Laboratory works and data analyses have been carried out at Geobiology Laboratory, Nagoya University.
June, 2005
Data analysis was finished.
Research results are presented at the symposium on the Yukagir Mammoth and exhibited at the Mammoth lab. in Global House.
Participants:
Tomowo Ozawa (Department of Earth and Planetary Sciences, Nagoya University, Nagoya, JAPAN)
Gennady G. Boeskorov (Institute of Applied Ecology of the North, Academy of Science of the Sakha Republic (Yakutia), Yakutsk, RUSSIA)
Valeryi A. Argunov (Yakut Science Center of Russian Academy of Sciences and the Government of the Republic of Sakha, Yakutsk, RUSSIA)
Evgenia Mikhailova (Deputy Chairman of the Government of the Republic of Sakha (Yakutia))
Toshio Nakamura (Secretary General, Japan Association for the 2005 World Exposition)