EXPO2005 INTERNATIONAL WORKSHOPS

EXPO 2005"Message to the Future"
John Williams & Richard Harvey World Tour
Theme Concert
EXPO 2005"Message to the Future"John Williams & Richard Harvey World Tour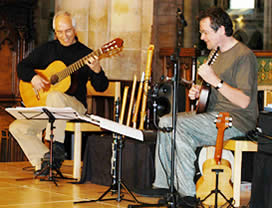 John Williams (Left)  Richard Harvey (Right)
+ Date
Wednesday, September 21

+ Door Open
18:30
+ Concert
19:30~20:30
+ Venue
EXPO Dome
+ Organizer
Japan Association for the 2005 World Exposition
+ Supported by
FUJITSU TEN LIMITED
+ Artists
John Williams (Guitarist / UK)
Richard Harvey (Composer, Pianist and Multi-instrumentalist / UK)
+ Special Guest
Nagoya University of Arts Choir Group
+ Outline
Renowned guitarist, John Williams and multi-instrumentalist, Richard Harvey will perform at the grand finale. This will be the premiere of their new "World Tour" concert – a global music experience.
Profile
+ John Williams & Richard Harvey
John Williams and Richard Harvey have collaborated closely on various musical projects over the last twenty years. They share a deep interest and passion for the many musical cultures of the world and now at last John Williams (guitar) and Richard Harvey (playing over twenty instruments) have formed a duo. Their programme will include sparkling"Kora" pieces from West Africa, tunes from Madagascar to China, mesmeric"Kacapi-Suling" from Java, music from Latin America and Ireland, and the"Terpsichore" of Michael Praetorius.
+ John Williams (Guitarist / UK)
Born in Melbourne, Australia in 1941 John Williams' jazz guitarist father gave him his first guitar when he was four. He started to attend Andres Segovia's summer schools when only eleven. After studying at the Royal College of Music he set up the new Guitar Department there. John's first performance in Japan in 1963 led to a recording contract with CBS Records (now Sony Classical) in time for his US debut a year later. Although trained as a classical guitarist John has collaborated with musicians and music styles from across the world; from Greece's Mikis Theodorakis to Chile's Inti-Illimani with whom he has toured on many occasions; a line-up that has included Paco Pena. His fusion approach started with 'The Height Below' (1973) produced by George Martin and his extensive tours with 'Sky'. His popularity reached new heights with the release of 'Cavatina', the theme music for 'The Deer Hunter', since when John has scored a number of major screen films. His classical repertoire continued with a collaboration with Julian Bream amongst others. His first performed with Richard Harvey in 1983.
+ Richard Harvey (Composer, Pianist and Multi-instrumentalist / UK)
After graduating from the Royal College of Music in 1972, Richard Harvey started playing recorder and early woodwinds with his own group 'Gryphon' and ancient music pioneers"Musica Reservata". His work with Maurice Jarre led him into composing for films – over 25 feature films to date. He won a British Academy Award for the score for 'GBH' in 1991. His first composition for John Williams was"Concerto Antico" in 1995 performed with the London Symphony Orchestra. He has recorded for Sir Paul McCartney, Kate Bush, Elvis Costello, Stanley Myers and numerous others. He has a collection of 600 instruments from around the world, is a prolific composer, an occasional guest conductor and a virtuoso performer on a vast collection of instruments - blown, plucked, keyed, bowed, beaten and programmed. He has made several classical albums, including a Classical Record of the Year Italian Recorder Concertos which remains in the Gramophone Magazine's Top 100. He has released more than fifteen CDs, most recently 'Silk and Bamboo' with the German guitar virtuoso Hucky Eichelmann.
Application
Advanced reservation: Please refer to the EXPO 2005 official web site or the EXPO 2005 official guide book and submit your application online (either from computer or mobile phone).
If you would like to see the show, please take a seat ticket at the EXPO Dome Ticket Booth. It will be distributed from 1 :00 p.m. on September 21.
All seats are unreserved except some areas.
*Visitors without admission tickets for the EXPO 2005 will not be able to enter.
*If the number of applicants exceeds the capacity of a program, no more applicants will be accepted.
For further information: EXPO 2005 Message Events Operating Office
Tel: +81 (0)52-955-6015 Weekdays 10:00-18:00