EXPO2005 INTERNATIONAL WORKSHOPS

Potentials and Progress of Science - Science Show
Theme Concert
Changes of the Earth Observed in the Antarctic - Lecture by a correspondent to the Antarctic
+ Date andT ime
Sat. 21 May 11:30 – 14:30
+ Venue
EXPO Dome
+ Organizers
Japan Association for the 2005 World Exposition
Asahi Shimbun (Media Asahi)
+ Outline
Program of a plain and amusing presentation of potentials of science studied and developed in various fields
Lecture by a former correspondent to the Antarctic on his experience as well as on the changes of the Earth observed there.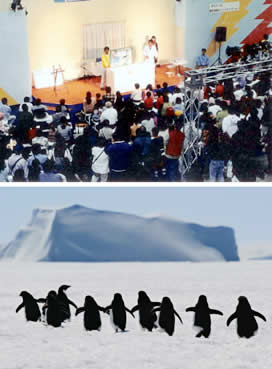 + Date andT ime
Sun. 22 May 17:30 –20:00
+ Venue
EXPO Hall
+ Organizers
Japan Association for the 2005 World Exposition
Asahi Shimbun (Media Asahi)
+ Outline
Workshop based on the special effects used in Star Wars taken as a good example of the artistic improvement brought by a technological progress It aims at encouraging both children and adults to think of the technology and the future of the humankind.
+ Advanced reservation
Please refer to the EXPO 2005 official web site or the EXPO 2005 official guide book and submit your application online (either from computer or mobile phone).
+ Numbered Tickets
If you wish to see the show, please take a numbered ticket at the EXPO Hall.
It will be distributed from 9:00 a.m.on June 5.
All seats are undesignated except some parts.
* Visitors without admission tickets for the EXPO 2005 will not be able to enter.
* If the number of applicants exceeds the capacity of a program, no more applicants will be accepted.