EXPO2005 INTERNATIONAL WORKSHOPS

Nature's Wisdom, Rhythm of the Earth
Theme Concert
Opening Session:Nature's Wisdom, Rhythm of the Earth
Eitetsu Hayashi Concert
+ Date
Monday, March 28

+ Door Open
18:30
+ Time
19:30~20:30
+ Venue
EXPO Dome
+ Organizers
Japan Association for the 2005 World Exposition
+ Sponsor
Fujitsu Ten Limited
+ Artists
Eitetsu Hayashi (Japanese Drums)
Keisuke Doi (Bamboo Flute)
Eitetsu Fu-Un no Kai (Japanese Drums)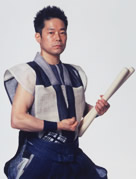 Eitetsu Hayashi
+ Outline
The concert of Japanese drums and a bamboo flute will appear in the opening session of EXPO 2005 Message Events. Dynamic rhythm will evoke memories of time immemorial and invite us to the world of Nature's Wisdom. Powerful sound will resound as a message to the future.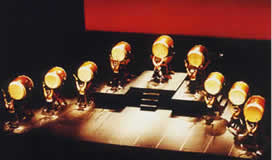 shichisei
Application
+ Advanced reservation
Please refer to the EXPO 2005 official web site or the EXPO 2005 official guide book and submit your application online (either from computer or mobile phone).
+ Reservation on the day
Reserved seat tickets will be distributed at the entrance of the EXPO Dome from 9:30 on the day of a concert.
*Visitors without admission tickets for the EXPO 2005 will not be able to enter.
*If the number of applicants exceeds the capacity of a program, no more applicants will be accepted.
+ For further information
EXPO 2005 Message Events Registration Secretariat
Tel: 052-955-6015 Weekdays 10:00-18:00
Profile
+ Eitetsu Hayashi Japan's Premier Solo Taiko Drummer
EITETSU HAYASHI , a Hiroshima native, started his Taiko carrier as a founding member and premier performer of the world-renowned groups "SADO-ONDEKOZA" and "KODO". After leading these companies for eleven years, EITETSU became independent in 1982.  As the first Wadaiko soloist of his kind, EITETSU created a new method of soloing "O-Daiko" performance requiring techniques and physical stamina previously unknown in traditional Japanese "Wadaiko" playing. Using a unique combination of "Wadaiko" drums, he created and performed original music, and as a pioneer of a countless succession of entirely new experimental musical endeavors, he created and performed his works in numerous concerts at home in Japan and abroad.  In 1984 EITETSU made his Carnegie Hall debut with the American Symphony Orchestra, no less than debuting a new musical genre in the West. Since that time, he has continuously performed throughout Japan and the world, including North America, Europe, Australia, Africa, Asia and Latin America.
He has performed and collaborated with artists in Jazz, Rock, World Music, Classical, Dance and Butoh, ranging from Djembe percussionist, Mamady Keita to avant-garde pianist, Yosuke YAMASHITA.  In recent years, EITETSU has increasingly played as a soloist with the world's top orchestras, including the Boston Symphony Orchestra conducted by Seiji OZAWA (1976,1999) and the Berlin Philharmonic Orchestra conducted by Kent NAGANO (2000).  The latter performance, held at Waldbune in Berlin, was attended by an audience of more than 20,000, erupting to a standing ovation that was broadcast around the world. In the 20th anniversary year of his work as a solo performer, EITETSU gave a U.S. tour "The Wings of Flightless Birds 2002," to a great acclaim.  EITETSU also has produced artistic events in Japan and has composed music for movies, plays, and other Taiko groups under his instruction. He has published not only music but also many essays and a very successful book entitled "To the Taiko Players of Tomorrow (Ashita no Taiko-uchi e)".
EITETSU's artistic activities and contributions have been so highly appreciated that he received the prestigious Japanese national cultural award, "The 47th Education Minister's Art Encouragement Prize" in the Popular Entertainment Division in 1997, and received "the 8th Award for Promotion of Traditional Japanese Culture (Japan Arts Foundation)" in 2001.