EXPO2005 INTERNATIONAL WORKSHOPS

"Sustainable Environmental Education, Culture and Life"
Workshops and Lectures etc.
JAG Garden Forum 2005 Aichi Expo Beautiful cityscapes harmonized through garden design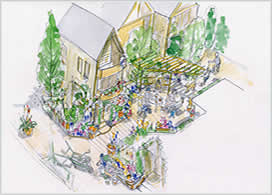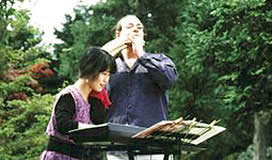 + Date
Sunday , July 24, 2005
+ Door Open
10:00
+ Opening
10:30-11:10
+ Forum
11:15-13:30
+ Workshop
13:30-14:45
+ Panel show
10:00-20:00
+ Venue
EXPO Dome
+ Guests
Heita Kawakatsu, Pan des Deux (Panflute & synthesizer players), Riku Ohkawa, Tamie Taniguchi, Mayumi Uchikura, Tomoko Tsujimoto, Satoru Masaki
+ Organizer
JAG(JAPAN ASSOCIATION OF PROFESSIONAL GARDEN DESIGNERS)
+ Supporter
Japan Federation of Housing Organization
+ Outline
People, garden, city and nature ─ In the forum, a life style with environmental consciousness and the role of garden designers will be considered. There will also be a panflute & synthesizer concert (Panflute is the world oldest instrument) and bamboo craft workshop.
Profile
A Keynote Lecture:
Heita Kawakatsu
Professor at the International Research Centre for Japanese Studies Developing and proposing original cultural theories with a particular emphasis on global comparative economic history and the roles of Japan, Asia, and Europe. He also proposing and doing activities based on his Garden Island concept. Topic: The Garden Island Concept and Gardens for the 21st Century
Panelists:
Riku Okawa
A managing director for Housing production promotion Incorporated Foundation, Representative director of the NPO –Urban Policy Support Group- He is actively
involved with Townscapes in the Housing and Urban administration at the Ministry of Construction and at the Provincial administration in Aichi Pref. He is a garden enthusiast with green fingers and has over 30 years of experience in the garden.
Tamie Taniguchi
Founder of the National Garden Scheme, Japan Studied English Lifestyle at Finishing School in the UK and has visited the UK over 20 times, She studied English welfare work through gardens under Mrs. Daphne Foulsham, Previous chairman of The National Gardens Scheme Charitable Trust. The N.G.S has a 78-year history and Prince Charles as the president. She established The N.G.S Japan in June 2001.
Mayumi Uchikura
Representative of the Group 'Brains –We who sew the seeds-' She has been evolving townscape through flower activities in Megumino, Eniwa City, Hokkaido. Since 2001, she has been publishing magazines about open gardens in Hokkaido and with the group, has published the book, "OPEN GARDENS of HOKKAIDO". She is currently involved with the Garden Island Hokkaido, 2008 concept.
Special Guest
Tomoko Tsujimoto: Landscape Planner
"PAN DES DEUX" is: Walti Bucheli - Soh - Pan flute / Bass – Pan flute and Yuki Soh - Bucheli - Piano / Synthesizer.
Walti Bucheli - Soh was born in Switzerland in 1964. He discovered the Pan flute after 19 years of diverse musical experiences and came to Japan in 1992.
Yuki Soh – Bucheli was born in Japan in 1967, Yuki Soh - Bucheli studied the piano at Michelangeli from the age of four. She graduated from Kunitachi Music College, Tokyo, in 1989.