EXPO2005 INTERNATIONAL WORKSHOPS

Sound and Form of the Earth ~Cultural and Biological Diversity
Theme Concert
Tapestry of Multicultural Music"Grace Nono& Bob Aves Group Concert
+ Date andT ime
Thursday, April 7
Door Open : 18:00 Time: 19:00~20:00
+ Venue
EXPO Dome
+ Organizers
Japan Association for the 2005 World Exposition
+ Supporter
UNESCO (U.N. Educational, Scientific and Cultural Organization)
+ Sponsor
Fujitsu Ten Limited
+ Artists
Grace Nono& Bob Aves Group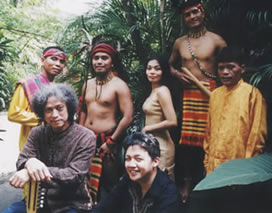 Grace Nono& Bob Aves Group
+ Outline
The Philippines is a multicultural– Beyond the cultural differences, artists will gather to spin their words and sounds into a piece of music.
Workshops and Lectures etc.
"Hosei Takeda hana performance "kaze irodori"
+ Date and Time
Thursday, April 7 11:00~12:00
+ Venue
EXPO Dome
+ Organizer
Japan Association for the 2005 World Exposition
+ Cooperation
Hosei Takeda JAPANA
+ Performers
Hosei Takeda JAPANA, Hosei Takeda (Space Designer)
+ Outline
Live flower performance along with music and fairies' dancing.
" Live with Nature's Wisdom" ~ Finger Knitting and Talk Show
+ Date and Time
Thursday, April 7 13:00~18:00
(Exhibition 12:00~ )
+ Venue
EXPO Dome
+ Organizer
Japan Association for the 2005 World Exposition
+ Cooperation
N・A・C
+ Guests
Kisou Kubota (Professor Emeritus, Kyoto University / Doctor of Medicine)
Mako Hattori (TV Personalities)
Mitsuhiro Hirose (Knit Designer)
+ Outline
Through YUBIAMI (finger knitting) with 2000 people and a talk show of Dr. Kubota, Ms. Hattori and Mr. Hirose, will offer an opportunity to learn the importance of using hands and communication with nature.
Application
+ Advanced reservation
Please refer to the EXPO 2005 official web site or the EXPO 2005 official guide book and submit your application online (either from computer or mobile phone).
* Visitors without admission tickets for the EXPO 2005 will not be able to enter.
* If the number of applicants exceeds the capacity of a program, no more applicants will be accepted.
+ For further information
EXPO 2005 Message Events Registration Secretariat
Tel: 052-955-6015 Weekdays 10:00-18:00
Profile
+ Grace Nono & Bob Aves Group
The Grace Nono-Bob Aves Group, a Philippine music performance group led by multi-awarded Filipino-world music artists Grace Nono (Artistic Director, Singer) and Bob Aves (Musical Director, Arranger, Solo Instrumentalist), is known for its creative re-readings of Philippine traditional music. Composed of members from different Philippine regions and ethno-linguistic groups, its current guest artists are: Karatuan Kalanduyan, Alex Tumapang, Charles Wandag, Faisal Monal and Lionel Valdellon. Its principal methodology is to integrate into one unified sound, the indigenous, Southeast Asian, Chinese, Indian, Arabic, European and American elements that have all shaped the Philippinesí dynamic music history. The group performs a homegrown repertoire that has emerged from the Filipinosí effort to adapt to changing times and contexts. Utilized by the group are local languages, melodies, and instruments like bamboo pipes, lute, gongs, the octavina, as well as computers, hence, bridging tradition with technology and contemporary developments in world music. Repertoire is mostly prayers from different parts of the Philippines.
Though primarily a music group, Tao Music approaches performance from an interdisciplinary standpoint, integrating sound with elements of dance, poetry, and visual design. Its performances also easily interface with healing, spirituality, environmentalism, rights advocacy, cultural education, and peace.
A principal feature of the group is its inter-tribal, inter-faith personnel. Specifically, Tao Music members belong to Christian, Muslim, shamanic (traditional religion), Eckankar, Hindu, and Bahaíi faith communities. For a number of years now, Tao Music had also been involved in school tours, promoting inter-cultural, inter-faith dialogue through Philippine music and arts.
Tao Music has represented the Philippines in various world-music festivals overseas, to name a few, the Music Village in London, the WOMAD Festival in Yokohama, the Festival of Asian Arts in Hong Kong, and the Singapore Arts Festival.