Tree Planting at the Foot of Mt. Fuji, in Mongolia and in Seto City, Japan
The representatives of the 2005 World Exposition promoted site construction keeping the natural terrain and forests intact, insofar as possible. Nevertheless, they required development of forests with an area of approximately seven hectares, among the total EXPO site area of 173 hectares.
Therefore, the Japan Association for the 2005 World Exposition planned and implemented a pre-EXPO project titled the "Experience Nature" program, comprising three sessions of seedling planting. Participants in this program were invited from among the public. Unfortunately, the Association was not able to have all applicants take part in the tree planting, because so many applied in support of the program concept. Participants and local representatives, however, cooperated in the event to make a small but valuable contribution to global forestation.
(1) Tree planting experience at the foot of Mt. Fuji (Fujinomiya City, Shizuoka Prefecture, Japan): April 18, 2004
Approximately 350 participants gathered from Aichi (hosting prefecture of EXPO 2005), the Kanto region and the local area. They planted 4,650 seedlings of Japanese cypress, maple, zelkova and other trees on 2.5 hectares.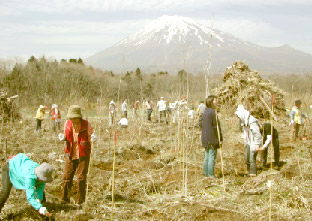 (2) International tree planting festival in Mongolia (Sukhe Bator City, Mongolia): September 18 to 22, 2004
Approximately 100 participants, including 23 from Japan, planted 30,000 seedlings of red pine (native to Mongolia) and other trees, on 10 hectares.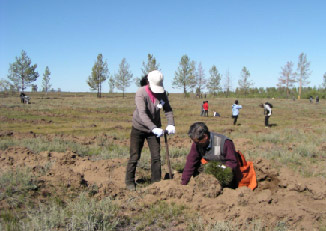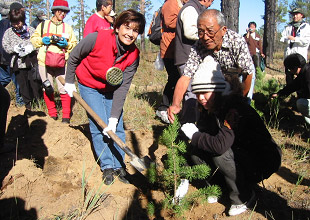 (3) Tree planting experience in Seto City (recreation forest in precincts of Jokoji Temple, Seto City, Aichi Prefecture, Japan): November 7, 2004
Approximately 120 participants, mainly from the local area (including many families) gathered to plant 500 seedlings of mountain cherry, Japanese maple, azalea and other trees on 0.5 hectares.
Tree planting events are quite common throughout Japan, probably reflecting the increasing public awareness of forest conservation. The Japan Association for the 2005 World Exposition hopes that EXPO 2005 will contribute to the further expansion of such environmental initiatives.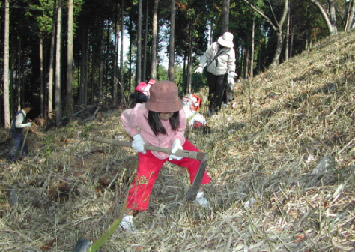 1) Tree planting experience at the foot of Mt. Fuji
2) International tree planting festival in Mongolia
Marie Christine, EXPO PR Producer, plants a seedling at the festival
3) Tree planting experience in Seto City