Fuel Cell Bus Powered by Next-generation Energy
- For shuttle bus service between EXPO Areas -
One objective of EXPO 2005 Aichi Japan is to serve as a model of the new global society for the 21st century. One major aspect of this model comprises various futuristic transportation systems that are environmentally friendly, comfortable and safe, while adding enjoyment to daily travels.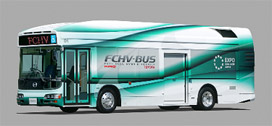 One such system is the fuel cell shuttle bus operating between the Nagakute and Seto Areas. The service covers a distance of about 4.4 km in about ten minutes.
Clean, next-generation energy sources, as opposed to fossil fuels such as petroleum, are now drawing worldwide attention. Hybrid automobiles combining gasoline (or diesel) engine and electric motor are already in practical use, and their high fuel efficiency and ecological attributes have been favorably evaluated, encouraging more widespread use. In these circumstances, fuel cell-driven vehicles powered by electricity generated from hydrogen have come into focus as next-generation vehicles. Unlike gasoline-driven automobiles, which emit carbon dioxide, a cause of global warming, and nitrogen oxides harmful to human health, fuel cell automobiles emit only water. Although they require energy for hydrogen production, their use results in the emission of water only¾how kind to the environment! Moreover, as their electricity is generated using only stored hydrogen and atmospheric oxygen, noise and vibration are also minimal. No energy is wasted in engine idling.
At present, numerous obstacles remain to be overcome before fuel cell-driven cars enter widespread use. Still, given the limited availability of fossil fuels and the urgent need to mitigate global warming, action should be accelerated to further promote the use of fuel cell vehicles.
Visitors to EXPO 2005 Aichi Japan: why not experience the fuel cell bus between the Nagakute and Seto Areas?
The fuel cell bus shown above is equipped with two fuel cells and secondary cells, located in the back of the vehicle. A motor drives the rear tires. The hydrogen fuel is stored in seven high-pressure hydrogen tanks mounted in the mid-section of the roof, so as not to compromise passenger space, thereby enabling a capacity of 65 passengers. Getting on and off the bus is also easy, thanks to the step-free door. A number of this model's first version are already operating on some parts of the Tokyo Metropolitan Bus service network, where they are earning good performance records.
* FCHV stands for Fuel Cell Hybrid Vehicle.