Global Loop - Elevated Cosmopolitan Promenade
- Nagakute Area -
EXPO 2005 Aichi, JAPAN represents a "first" in the 150-year history of the World Exposition. Most of the previous Expositions have been development-oriented; their preparation usually involved leveling vast tracts of land to build sophisticated structures for displaying state-of-the-art technology, thereby to enhance the host country's prestige and promote its industry. EXPO 2005 Aichi, in contrast, having undergone various complications up to the time of site finalization, has adopted a concept that is radically different from the conventional development-oriented approach. The EXPO 2005 Aichi sites preserve their natural conditions to the maximum possible. This is the first such attempt in EXPO history.
The Nagakute Area was formerly Aichi Youth Park, an undulating area dotted with sports facilities such as baseball grounds, tennis courts and a skating rink. To facilitate visitor movement through this environment, the Global Loop has been conceived. This huge elevated circular walkway is designed to require minimal modification to the area's topography and is erected so as to detour around existing natural ponds and precious habitats of fauna and flora. The Global Loop leads visitors to six Global Commons and Corporate Pavilions. In other words, visitors can take a "trip around the world" by promenading on the Global Loop. At 2.6 km long and 21 m wide, the Global Loop is arranged in a figure-8 shape and soars to 14 m above ground at its highest points.
The Global Loop walkway level is barrier-free in structure, with an almost completely horizontal surface, for the comfort of all visitors. Its maximum incline is 3 degrees, with inclined sections punctuated by horizontal intervals to prevent excessive wheelchair speed. The walkway surface is of wood, not asphalt. The walkway width of 21 meters is almost evenly divided into three sections: a middle section made of a 50%-by-50% mixture of waste wood and waste plastic, and two side sections made of Brazilian eucalyptus, a product of planned afforestation. Japanese cedar collected from forest thinning (*) in Aichi Prefecture is also partly used. Preview visitors who walked the Global Loop rated the surface very favorably, describing their promenade as "very comfortable, as the soft feel of wood transmits through the shoes." The central section material is reinforced with plastic, since that section will serve as a route for trams and emergency vehicles.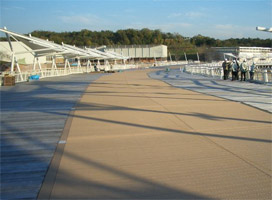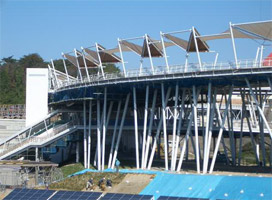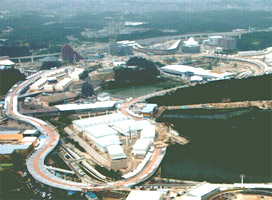 * Forest thinning
Forest thinning involves felling some trees in a forest to enhance the growth of remaining trees and thus the health of the forest as a whole. Without thinning, forest trees remain weakly rooted and vulnerable to heavy precipitation, which can uproot some trees, leading to mudslides, sometimes washing trees into rivers and carrying them downstream, causing considerable damage to riverside properties.