Bio-lung, a Massive Greening Wall at EXPO Plaza
In EXPO Plaza will rise a huge greening wall named "Bio-lung." Its size will indeed be overwhelming, at 150 meters long and 12 meters high. The name combining "life" (bio-) and "lung" implies the pulmonary function of plants in an urban environment.
As global warming, the heat island phenomenon and other environmental problems become increasingly conspicuous, the significance of soothing designs in urban development for residents continues to grow. It is a difficult task to expand green in a city jammed with skyscrapers. In April 2001, the Tokyo Metropolitan Government enforced the regulation obliging constructors of buildings whose areas exceeded the specified limit to equip their building with rooftop or other greening facilities. As a result of this greening promotion, the number of buildings with rooftop greening has expanded, and many entities are developing related technologies proactively.
In the meantime, the Japanese national government also resolved at the Cabinet meeting in February 2004 to enact the "Three Laws of Landscaping," which will be enforced to promote preferable landscapes. From the landscaping point of view, wall greening is much more effective than rooftop greening. Wall greening is also expected to exercise such environmental effects as curbing global warming and the heat island phenomenon.
Bio-lung, which meets the eyes of visitors to EXPO 2005, dexterously combines the environmental effects of plants and delightful landscaping. Some 15 companies shared the construction of Bio-lung, each using its latest wall-greening technology in its portion. Visitors can please their eyes not only with its sight from the EXPO Plaza, but also with the beauty and comfort provided between the two greening walls, along the promenade decorated with flowers and plants.
At both ends of the central large screen, roses and other glamorous flowers are planted in pockets of the canvas made from kenaf and coated with photocatalyst. Other presentations of state-of-the-art greening technologies include sedum vegetation mats pasted over foam resin materials, vines planted over vegetation boards made of peat moss, and lovely wild flowers planted on bog moss.
Bio-lung is sprayed with mist of active water generated by ceramics. This spraying has the effect of cooling the temperature in the area. Bio-lung is designed to absorb carbon dioxide and supply oxygen with the vegetable power, in addition to the cooling effect in the summer months. It thus presents a model for future environmental equipment that will improve the urban environment and reduce environmental impact.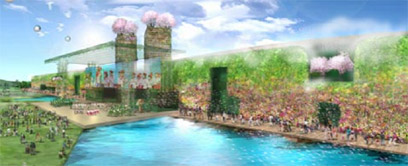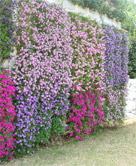 What is kenaf?
Kenaf is a type of hemp, categorized as a "tree-free" material. Although it is a therophyte, kenaf grows to a diameter of three to five centimeters at the bottom and a height of three to four meters. Kenaf is commonly cultivated in Southeast Asia, China, India, Africa, Central and South America. Its characteristics include:
(1) Fast growth:
Kenaf grows to three to four meters in 120 to 180 days. Harvests reach around 10 to 15 tons per hectare.
(2) Qualities close to those of tree pulp:
It is believed that kenaf was used for ropes, bags, fishing nets and other purposes in ancient times. It is now used as a textile clothing material, as well as a paper material that produces a feel close to that of traditional Japanese paper.
(3) High environmental performance:
Kenaf is believed to have the CO2 absorption capacity several times larger than that of trees.
The current uses of kenaf are limited to paper (for paper cups, wallpapers etc.), textile (for towels, tents etc.), food etc., but other applications are under development, including lining for automobile doors.