Bamboo Cage as an Example of Highly Efficient Use of Bamboo and a Means of Reducing Air-conditioning Requirements
- Japan Pavilion, Nagakute Area -
Imagine a huge bamboo cage: 90 meters wide, 70 meters deep and 19 meters high. The Japan Pavilion in the Nagakute Area will be placed inside such a structure. From a distance it resembles a giant cocoon, creating a fantastic image.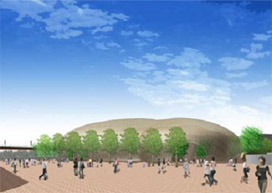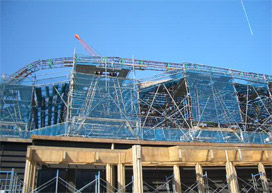 The Bamboo Cage comprises three structures:
Bamboo truss: A truss forms the support frame on which the cage is mounted. The truss is also made of a thick variety of bamboo (called "Moso Bamboo"), each unit comprising four long bamboos, smoke-treated for greater durability and strength. Thinner bamboo sticks, arranged laterally with their ends in holes in the four long bamboos, fix the unit together. The largest units are 7 meters high.
Bamboo Cage base: large-meshed grille of bamboo, mounted on the truss
Bamboo mesh: fine-meshed grille of thin bamboo sticks, placed directly on the Bamboo Cage base to cover the entire Cage. The longest space between Pavilion roof and bamboo mesh is 6 meters. The bamboo base and the mesh together block about 70% of the sunlight and, coupled with the good ventilation, create a tree-shade-like effect.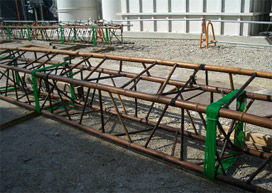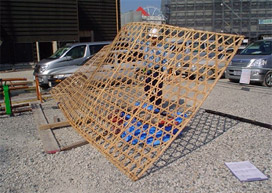 But why bamboo? Because of the "bamboo nuisance" currently occurring in Japan: it is said that there is too much bamboo, as bamboo grows very quickly (up to 1 meter per day), and if left unattended can spread rapidly to where it is unwanted. The Bamboo Cage is therefore a proposal for efficient use of bamboo. About 23,000 bamboo stalks are used for the Japan Pavilion in the Nagakute Area. During summer, bamboos blocking the sunlight are expected to lower the Pavilion interior temperature, thus reducing air-conditioning requirements.
For further details on the Japan Pavilion (Bamboo Cage), click the address below:
Jump to http://www.nippon-kan.jp/making/new_040625/index.php