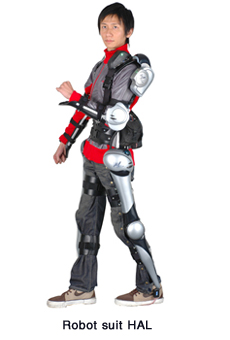 On May 10, the New Energy and Industrial Technology Development Organization (NEDO) announced the content of the exhibits to be shown at the Prototype Robot Exhibition scheduled to be held at the Morizo & Kiccoro Exhibition Center in the Nagakute Area of EXPO 2005 Aichi, Japan for 11 days beginning on June 9th until the 19th.

Demonstrations at various EXPO 2005 locations, including Robot Station, are already being held for "Working Robots" (9 robot types representing 5 fields) that are being developed with commercial application aimed for around 2010. The robots to be displayed at the upcoming exhibition, however, are "Prototype Robots" (65 robot types representing 8 fields) that are being developed with the goal of realizing their commercial application in a wide range of fields at around 2020. NEDO had made an open call for participation, and there will be a wide array of unique prototype robots at the exhibit from universities and companies.

Robot suit HAL, which was shown at the media briefing, detects the low-frequency current that passes over the surface of a person's skin when they move, and it anticipates the next movement. It activates the motor of a power-assisted suit and extends and amplifies a person's movement. There are expectations held for its application to help those with weak legs walk, or in nursing care for the elderly, at disaster relief sites, and so on. The Amphibious snake-type robot, which is about 2 meters in length, is equipped with a camera on its head and can move freely over land or in water as well as go into narrow spaces. Its use for searching under rubble after disasters or in undersea exploration is being considered. Robovie & Wakamaru are two robots that perform a comedy routine, which incorporates audio, body language and hand gestures, by detecting the silent gaps in each other's conversation.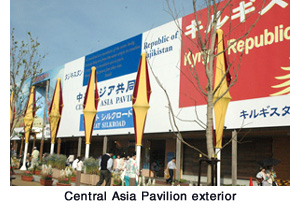 The Silk Road tied the eastern and western extremities of the vast Eurasian Continent from times before the birth of Christ. The cities of Central Asia were located at the middle of this road and developed a unique history as the crossroads between Eastern and Western civilizations. Four Central Asian republics that gained independence after the dissolution of the Soviet Union, namely Kazakhstan, Kyrgyzstan, Tajikistan and Uzbekistan, are exhibiting jointly at the Central Asia Pavilion located in the Nagakute Area's Global Common 1. The theme of this joint pavilion is "Exchanges of Time."

Enter first from the Uzbekistan entrance whose walls are decorated with beautiful woodcarvings. Visitors will find themselves in a wondrous space, with castle walls and gate - which protected the people of oasis towns from foreign enemies - and a minaret, from which Muslims are called to prayer and whose towering height made it a guidepost for caravans arriving from the desert. Beyond the minaret, beautifully embroidered suzani cloth and vibrant ceramics characterized by a bright blue color and delicate designs fill the space recreating a bazaar where traders from East and West gathered.

Now, walk outside of the castle walls of this oasis town, and head towards the Tajikistan corner, a mountainous country boasting many peaks towering above 7,000 meters. Visitors let out gasps of astonishment when they come upon a giant 13-meter reclining Buddha. It is a replica of a reclining Buddha dating back to the 6th century that was unearthed in this country. The statue of the reclining Buddha shows the richness of the Buddhist culture that had blossomed there witnessed by Chinese Buddhist priest Hsuan-chuang when he made his pilgrimage to India in the 7th century. The well-defined Persian features of the woman attendant standing by this statue wearing colorful native dress reminds us of the history of this country where various ethnic peoples and civilizations mixed.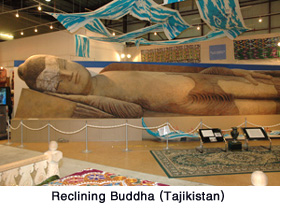 Beyond the Tajikistan corner, visitors step into the culture of the yurt, the traditional portable dwellings of the nomadic people.

This section begins with Kyrgyzstan, a country with an average elevation of 2,750 meters. It is a mountainous nation with beautiful landscape, sometimes called the Switzerland of Central Asia. Introduced in the round exhibition space that portrays a yurt are the lifestyles and culture of the nomads who led their flocks of sheep and yak through the grasslands between the mountains. A stone statue, said to be the grave of a Tujue (Turkish horse-nomads active from the 6th to 9th centuries) warrior, and a stone engraved with a Nestorian cross are all originals and are valuable historical heritages that can only be seen here. The facial features of the Kyrgyz male attendant looks very much like those of a Japanese. It makes visitors feel the mysterious ties of the world that goes beyond borders.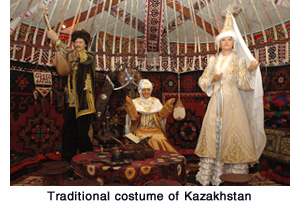 Finally, there is Kazakhstan, a country characterized by vast grasslands known as the Kazakh steppe. There is an actual yurt on display at the entrance. Inside the yurt covered by white felt, is a colorful Shyrdak felt carpet. A grandmother sits in a chair surrounded by a young bride dressed in a beautiful wedding garment and a brother playing a Domrah, Kazakhstan's traditional musical instrument. The three dolls seem to tell the story of the happy lives of the nomadic people. Many precious paintings that depict the history of this land decorate the walls of the Kazakhstan corner. The splendor of golden armor, said to that worn by a Scythian prince in the 5th century BC, a silverwork belt decorated with jewels and swords dazzle the eye. The numerous saddlery items, including saddles, give us a sense of the lives of the horse-nomads. Then, a spacesuit suddenly appears among the exhibited items. From the Baikonur cosmodrome in southern Kazakhstan, a space center during times when the country was still a part of the Soviet Union, was launched the Sputnik, the world's first artificial satellite. Furthermore, Kazakhstan also has abundant natural resources, including reserves of oil and natural gas in the Caspian Sea area. The vigorous present of this country, which is the most affluent in Central Asia, is also introduced through video.

Travel the Central Asian Silk Road in a trip beyond time, space and borders. We hope that many people will follow this path at EXPO 2005 Aichi, Japan.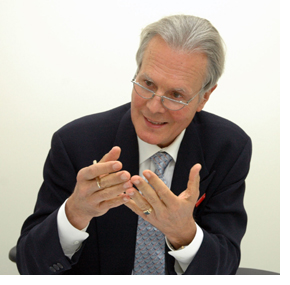 I think that the characteristics of EXPO 2005 Aichi, Japan are that it is an Expo that makes people sensitive to the importance of the environment and of ecological behavior, and that it is an Expo that provides an opportunity for intercultural exchange. Nature can at times pose a threat to us, but it is at the same time a gift to humanity. I think that EXPO 2005 is aiming to enhance our awareness of the fact that the natural environment that we share on this Earth can only be preserved by our working together. By walking around the EXPO 2005 venue, visitors will be able to feel and learn about intercultural exchange and harmony. I was once the Swiss ambassador to the United Nations. I think that this Expo is a bit similar in that people from many different countries gather and work together towards the achievement of a single objective.

The theme of the Swiss Pavilion is "The Mountain." I think that for many people mountains come to mind when they think about Switzerland. Mountains have an impact on us. Our country is dominated by mountains; we do not have access to an ocean; we do not have any natural resources; and we do not have many plains suitable for farming. Switzerland used to be a very poor country. Unlike people in fertile regions, we needed to work many times harder to get something out of the soil. That makes mountain people hardworking people.

The Swiss Pavilion is modeled in the shape of a mountain. Inside, we introduce examples of Swiss ingenuity, inventiveness and cultural features. In a sense, this symbolizes the situation in Switzerland - we are a country dominated by mountains but, at the same time, a highly developed country. We want to show that we accept our natural environment, and that there is no contradiction between our acceptance of nature and scientific or economic progress.

We are exhibiting the Alinghi, the sailboat that won America's Cup 2003, and the balloon Bertrand Piccard flew in when he completed humankind's first round-the-world flight by balloon. I think that these can be said to be fine examples of the combination of a thorough understanding of nature's forces and high technology, and thus of a successful integration of nature and science.

In a speech given at the ceremony for the Swiss National Day, held last month at EXPO 2005, the President of Switzerland quoted Sir Francis Bacon who said, "Nature, to be commanded, must be obeyed." I think that we must respect nature and understand the importance of nature in order to allow us to live a worthwhile life of good quality.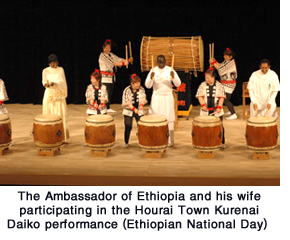 EXPO 2005 host Japan will present Japan Day on June 6. Various events will be held for a week up to June 12 as Japan Week. The events are produced by world-famous jazz musician and Japan Pavilion Projects Director-General Sadao Watanabe.

At the Japan Day ceremony, "Share the World," composed by Sadao Watanabe to transmit a message from Japan which goes beyond languages and borders, will be sung by a chorus of 200 Japanese children.

Japan Week will be composed of Japan Week Selection - Traditional and Contemporary, Sadao Watanabe's Rhythm World - Meet the EXPO, and Sadao Watanabe's Rhythm World (Finale). Based on the themes of melody, dance, beat and group performance, "Traditional and Contemporary" will feature performances of musical instruments that are representative of four periods in Japan, traditional dance, Japanese drums, etc. Meanwhile, "Meet the EXPO" is a celebration of song and dance by groups of young performers from around the world in their teens. June 12, the final day, will feature stage performances befitting the finale of Japan Week and the grand culmination of Sadao Watanabe's passion towards this project.

Visitors will be able to enjoy various entertaining stage performances during Japan Week. It should also be a rare and wonderful opportunity that goes beyond language for foreign visitors in which they will be able to experience Japanese culture.

For details regarding National Days and Special Days, please visit the EXPO 2005 Aichi, Japan official website.