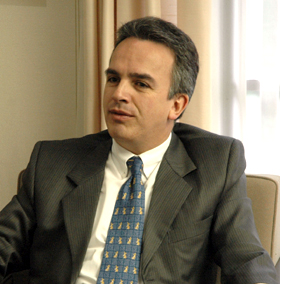 I would say that first of all, the importance of EXPO 2005 Aichi, Japan is that it presents new technologies and new, bright proposals on how to deal with common problems. Furthermore, it reiterates that we have only one world - the Earth - and that ecosystems are all integrated. There is also focus on presenting things which evoke the attention of children. I think that many children who come to EXPO 2005 will instinctively sense that this is one small world; that you need technologies and that you have to share these technologies for the benefit of humankind. This, too, is a powerful idea, and one of the characteristics that makes EXPO 2005 superb.

Expos are a party of talents; it is a party in which many talented minds come together. We do not have to celebrate with tears or confront environmental problems with a sense that this is a losing battle. I feel that EXPO 2005 gives us the hope that the inventiveness of the human race will enable us to defeat the problems that we face today. I think that it is very significant that this kind of Expo is being held at the beginning of the 21st century.

Mexico is a multicultural, multiethnic country. We are a relatively new country, less than 200 years old, but in a sense, we are also a very old country because our roots go back some 3,000 years. Mexico is the fourth largest country in the world in terms of biodiversity, and so the theme of our pavilion is, "Interweaving Diversity." We show how the jungles, the forests, the seas, and the deserts - the four main ecosystems that exist in Mexico - have had an impact on the cultural development of the various Mexican people living there. For example, from about 2,000 years ago, the cultural manifestations of the people who were living in what we now know as Mexico tended to imitate the colors of nature; pure colors such as reds, greens and yellows. You still see this kind of color contrast in the works of modern Mexican artists such as Rufino Tamayo and Diego Rivera as well as in our ethnic costumes.

We will also be presenting our diversity and multiculturalism through music, dance and other artistic presentations performed by artists, dancers, singers and so on. For example, on the Mexican National Day, visitors will be able to enjoy not only traditional performing arts, such as folklore dances and mariachi, but also arts that represent the contemporary age including a performance by Eugenia León, a female vocalist who is representative of the younger generation of Mexican artists.

I have visited the pavilions of other countries, and I found it very interesting to see how different they are from the Mexican Pavilion and how each country is presenting their own cultural identity. While economic globalization is advancing today, I think that multicultural exchange, the coexistence of diverse cultures and mutual respect are some of the fundamental human values that should guide us throughout the 21st century.