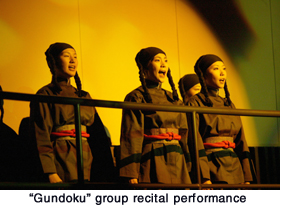 Next, visitors proceed on to the Gundoku performance. The amphitheater on the second floor is packed with an audience of more than 300. The circular stage at the center is surrounded by audience seating, and this seating area, in turn, is surrounded by a corridor which becomes the second stage.

The performance begins as the lights are dimmed. A clear female voice resounds in the theater. It is a tone that is remindful of the dynasty of gods. Images of flames and wild waves crashing on rocks are projected on the screens on the wall. These scenes express the birth of all creation. The Shinto prayers of a priestess are heard faintly in the background.

A large number of youth rush, with dash and spirit, down the aisle towards the stage. There are more in the corridor behind the audience seating.

"Things that do not change," a man's voice says. "Things that we must not change," say all of the men in unison. "Things that can change," a woman's voice says. "Things that should change..." say all of the women in unison. The Gundoku group recitation has begun.

A myriad of words shower the audience, from the stage at the center and the corridor behind. Passages from nursery rhymes and bits and pieces of children's songs and nursery tales, all of which every Japanese person has probably heard as a toddler, as well as snippets of festival chants, fill the theater. Youths energetically carry a Mikoshi portable shrine on their shoulders while shouting, "Wasshoi, Wasshoi!" a type of festival chant. In a Japanese version of patty-cake, women, acting out the roles of small girls, face each other and clap their hands together to the rhythm of a cutely sung nursery rhyme. Then, the song "Furusato (hometown)" begins playing quietly.

Japanese words and the ring of the words that have been nurtured over a history of over 2,000 years bring out a diverse range of emotions, such as an irresistible sense of nostalgia, the joy of spirited release and even sorrow, among the Japanese audience. To non-Japanese, the Gundoku performance provides an opportunity for them to feel the echo of the Japanese spirit and their delicate emotions; things that go beyond words.

A Canadian woman who saw the performance said, after the performance, "It was an exciting show. Even though I don't understand Japanese, there were things that came across very clearly. I thought it was really wonderful."

There are many repeat guests among the audience of this show. Some say that the face of each performer is becoming more and more beautiful each time that they perform. Perhaps the earnest way in which the actors approach each and every daily performance is enhancing and enriching the spirits of these youths.