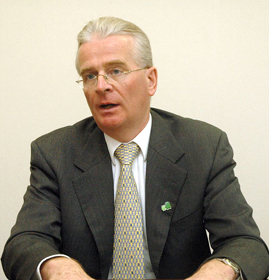 What we think is especially important about EXPO 2005 Aichi, Japan, is that it raises the issue of living in harmony with the environment as the biggest challenge for humankind. I think in approaching it this way, Japan has shown a great deal of wisdom and foresight, and what Japan is doing is setting the scene for Expos of the future. I think it is wonderful that participating countries are trying to transcend their individual national interests.

More than 120 countries and international organizations are participating in EXPO 2005, and people will be visiting one pavilion after another. So, there will just be a mosaic in their minds of what they have seen at the Expo. That is why, at the New Zealand Pavilion, we want to be modest and aim to leave a deep impression of just one or two things. We are encapsulating the essence of New Zealand and its nature in our pavilion. And we also show how we, as New Zealanders, live with nature, how we develop as a high-tech society, but in a way that is in harmony with the environment. We want people to come away thinking, "Gosh, New Zealand is beautiful, but it's also smart and innovative!"

There are several key symbols at the New Zealand pavilion. We have the sky with a cloud; water, as part of our extensive rainforest; and a large boulder called a "Pounamu," which is the central feature of the pavilion. "Pounamu" is a Maori word meaning "green stone." This boulder of jade, which weighs about 1.8 tons, was discovered about 14 months ago and is very rare. We were able to exhibit it here though a special gesture of the Maori people. It represents the heart of New Zealand -- Mother Earth.

Around the wall of the pavilion interior, we have a giant screen that will feature a film clip of New Zealand as seen through the eyes of a bird flying over the countryside. This is a combination of both real film and computer animation. Visitors can access the mobile phone portal for our pavilion (http://nzmobile.jp) with their cell phones and view all sorts of information about New Zealand, including the "Nature's Wisdom" theme, or use the QR Code (Quick Response Code) at the pavilion to access the site.

There will be the highest level of participation by VIPs from New Zealand. We, as a nation, are taking EXPO 2005 very seriously.