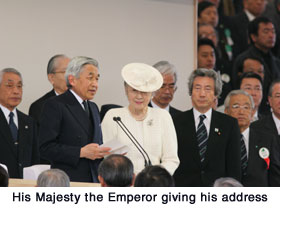 Part one was the ceremony section. The sound of the ancient Dotaku bell, which is said to summon the gods in Japan, resounded throughout the venue. Toshio Nakamura, Secretary-General of the Japan Association for the 2005 World Exposition, then declared the opening of EXPO 2005 Aichi, Japan. This was followed by the singing of the Japanese national anthem by internationally acclaimed soprano Shinobu Sato, the raising of the Japanese flag, the International Exhibitions Bureau flag (symbolizing world peace) and the EXPO 2005, Aichi, Japan flag. With the EXPO 2005 theme song "I'll Be Your Love" in the background, the raising of the flags was followed by the entrance of the flags of the 121 participating countries and 4 international organizations.

The ceremony portion began with an opening address by Shoichiro Toyoda, Chairman of the Japan Association for the 2005 World Exposition. It was followed by speeches and welcome addresses by Masaaki Kanda, Governor of Aichi Prefecture; Junichiro Koizumi, Prime Minister of Japan; and Jianmin Wu, President of Bureau International des Expositions (BIE; International Exhibitions Bureau), and was concluded by a speech from His Majesty the Emperor. In his address, the Emperor said, "It is my sincere hope that this World Exposition will provide visitors from around the world with an excellent opportunity to deepen their understanding of the interactions between human beings and nature, inspiring them to work together to preserve the global environment in good condition."

Next, heralded by a trumpet played by a robot, 14 robots of three types that were introduced as "Humankind's New Friends" exhibited their free and graceful movement on stage providing a glimpse into the cutting-edge technology that will be shown at EXPO 2005.

At the climax of the ceremony section, His Imperial Highness the Crown Prince turned on a switch which triggered a music box set within a model of the Earth made of recycled glass to begin playing. The glass "Earth" then emitted bright lights and 100,000 leaves flowed down upon the event venue.

Part one was concluded by the singing of "Share the World," a song written to convey the message of EXPO 2005. The beautiful voices of boys and girls choirs accompanied by sign language and the sound of the saxophone performed by Sadao Watanabe, a world-famous Japanese jazz musician, Director-General of the Japan Pavilion Projects and composer of "Share the World," filled the venue.