Back Number
No.11 2005/03/16
Special Feature
About the EXPO 2005 Aichi, Japan Venue
Pavilions : Aichi Pavilion Nagakute and Aichi Pavilion Seto
Interview
John Kennedy (Ireland)
Irish Commissioner General of EXPO 2005 Aichi, Japan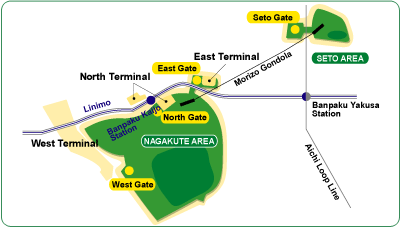 Let's take a virtual tour of the EXPO 2005 Aichi, Japan venue consisting of the Nagakute Area and Seto Area.

If you arrive at EXPO 2005 by Linimo at Banpaku Kaijo Station, you will be entering from the North Gate of the Nagakute Area. If you arrive by shuttle bus from Nagoya or other stations, you will arrive at the East Terminal and enter the venue from the East Gate. And, if you drive to EXPO 2005, you will be parking at one of the six Park & Ride Parking Lots and will arrive by shuttle bus at either the East or West Terminal.

First of all, be sure that you do not have any plastic (PET) bottles, glass bottles or canned beverages with you. These items cannot be brought into the EXPO 2005 venue for safety reasons.

Information regarding the day's events, congestion at pavilions and return transportation will be displayed at each gate. We recommend that you check them out and decide your plan for your day before entering the EXPO 2005 venue.

Each gate will have a care center for the disabled and elderly. They will offer a variety of information to help make your experience one that is barrier-free. Wheelchairs can also be rented here. There will also be "Heart-full Carts" that will provide free transport to three designated courses. Please note, however, that the Heart-full Carts will not be operated for safety reasons on days when much congestion is anticipated, such as on weekends and national holidays. Furthermore, while there will be 50 restroom facilities available at the Nagakute and Seto Areas, there will be about 70 multi-purpose toilets therein of which about 50 will be ostomate capable.

Each gate will also have a baby center where parents can feed, change diapers or rest infants. There will be hot water available for making baby formula. Baby carriages can also be rented free of charge. At the North Gate will be the "Kids Plaza Ask," a charged day-care center (by advance reservation only) for preschoolers aged 6 months or above. Child-care specialists who speak Japanese, English, Chinese or Korean will be on hand at this center. For reservations, call +81-3-5285-2457 (Japanese only) or send a fax in English or Japanese to +81-52-933-5467.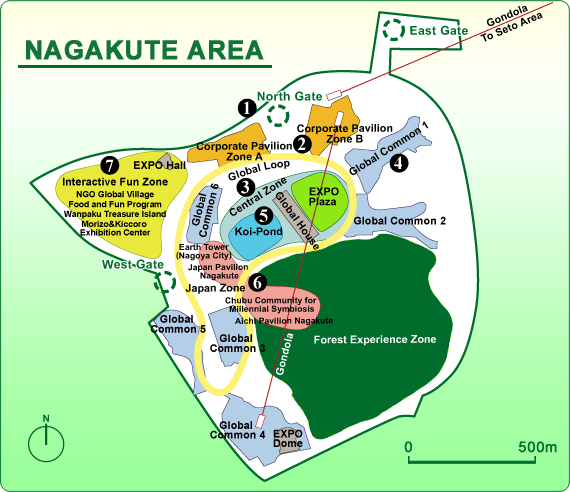 (1) Let us begin by seeing what it would be like to enter the Nagakute Area from the North Gate.

(2) The first area that you will approach are Corporate Pavilion Zones A and B. You will see a bright red pavilion with a Ferris wheel. This is the JAMA Wonder Wheel Pavilion. This zone consists of exhibits by nine Japanese corporate groups where you will be able to experience wonder and cutting-edge technology filled with dreams.

(3) The Global Loop is of the elevated corridor in the Nagakute Area. This gourd-shaped corridor is about 21 meters in width and 2.6 kilometers in length. Visitors will be able to enjoy a barrier-free experience of this site where there is a maximum difference of elevation of 40 meters.

(4) 17 Asian countries will be exhibiting pavilions at Global Common 1. Global Commons 1 through 6 are situated clockwise around the Global Loop with the pavilions of more than 120 participating counties and international organizations being exhibited by region. Taking a "round the world" tour through the six unique and dream-filled Global Commons should be quite fun.

(5) An event will be held every night at the Koi-Pond. This and the area around it, which contains EXPO 2005's theme pavilion - the Global House - as well as the EXPO Plaza where visitors will be experience Grand Intercultural Symphony, is called the Central Zone. The world's first exhibit of a frozen mammoth will be at the Global House.

(6) To the southwest of the Central Zone you will see Japan Pavilion Nagakute featuring a cocoon-shaped bamboo cage. This area, called the Japan Zone, is filled with the attractiveness of Japan, such as Aichi Pavilion Nagakute, Earth Tower (Nagoya City) and others.

(7) The Interactive Fun Zone follows. The NGO Global Village is where NPOs and NGOs from around the world participate in an international exposition for the first time. Here, visitors will be able to take part in entertaining and educational programs about related to various global issues such as the environment, peace, education and food.

To travel within the wide area of the EXPO 2005 venue, you may want to try the Intelligent Multimode Transit System (IMTS), a newly designed mode of transport, or Global Trams. These transportation systems within the venue are in themselves fun attractions where you can make discoveries.(http://www.expo2005press.jp/ml/en/07/index.html)

If you need to exchange money, visit UFJ Bank or post office at the West Gate. You can withdraw cash by overseas credit cards at UFJ Bank as well as the UFJ automated teller machine (ATM) at the North Gate. There are two post offices at EXPO 2005 aside from the one at the West Gate. They are located at the North Gate and the Seto Gate at the Seto Area. Overseas cash cards and credit cards can also be used to withdraw cash at the post office ATMs.

If you need help, visit the information centers. There are six such centers within the Nagakute Area that will provide information related to the venues, pavilions, events, transportation, etc. to you in Japanese, English, Chinese and Korean.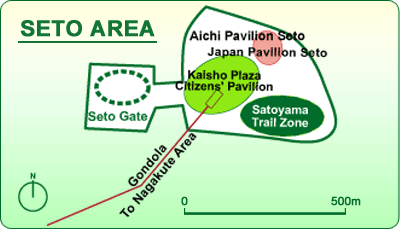 There are two ways to go to the Seto Area from the Nagakute Area. One is the Morizo Gondola which you board from Nagakute Station close to the North Gate. The other is the fuel cell hybrid bus, the bus stop of which is located nearby the North Gate. Both modes of transport are available free of charge.

The Seto Area consists of such attractions as the Citizens' Pavilion, Kaisho Plaza, Japan Pavilion Seto, Aichi Pavilion Seto and Satoyama Trail Zone.

Stage performances, exhibits and workshops will be held at the Citizens' Pavilion and Kaisho Plaza located adjacent to Morizo Gondola Seto Station. Ahead of the plaza, you will see the round-shaped Japan Pavilion Seto. To your left is Aichi Pavilion Seto, an elongated pavilion.

To the southeast of the Seto Area is the Satoyama Trail Zone. Themed around the "earth" and "satoyama (communal mountains)," this is where visitors will be able to experience mechanisms for coexisting with the environment as well as the wisdom and techniques of those before us.

Now that people will be able to visit EXPO 2005 for real, here is information regarding the admission tickets. If you have not yet bought one, we recommend that you do so as soon as possible. They can be purchased online. For details, please check the following
URL:http://www-1.expo2005.or.jp/en/ticket/ticket.html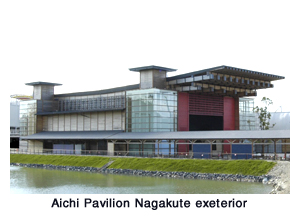 Aichi Prefecture, the host of EXPO 2005, regards this exposition as the first step to lead the development of new communities and proposes an "Eco-Community" aiming to find solutions for worldwide environmental issues from regional perspectives. Aichi Prefecture will exhibit two pavilions presenting environmental messages in both the Nagakute and Seto Areas: Aichi Pavilion Nagakute and Aichi Pavilion Seto.

Aichi Pavilion Nagakute is of a Japanese-style design and is based on a motif of parade floats that symbolize the traditional culture of Aichi Prefecture. The theme of this pavilion is "Eco-Industrial Revolution." "Eco-industrial Revolution" is a term coined by Kazuma Yamane, General Producer of the Aichi Pavilions, to describe an industrial revolution that has ecology as its axis. The pavilion will combine Aichi's proud legacy of craftsmanship with cutting-edge technology to propose a new industrial mechanism with the protection of the environment as its pillar.

The welcoming monument that will greet visitors from the roof of the pavilion is the "Dancing Directional Towers with 'Karakuri' Doll Performance." It consists of three 18-meter-high steel towers that have a giant Japanese lantern-lit stage at its center. There, a mechanical doll (depicting a Chinese child) pulling a " Shinansha" (south-pointing chariot) will perform dynamic stunts. The monument integrates cutting-edge industrial technology with traditional clockwork technology, the basis of Aichi's rich tradition of craftsmanship.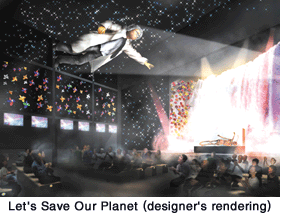 Within the pavilion at its stage will be about 20 live performances every day, or a total of 3,000 presentations during EXPO 2005, entitled, "Let's Save Our Planet." The 20-minute show features a scientist named Dr. Mamoru Econo who is raising an alarm about climate change. Another main character is Iceman, a frozen mummy who has woken up from a 5,300-year-long sleep due to global warming. He is surprised at the dramatic changes he sees in the environment. The pair presents a message to the audience regarding global warming.

Next, at "The Eco-technology of Japan and the Great Mural of Industries of Aichi," the history and near future of Aichi craftsmanship starting from the Edo period (1603 - 1867) will be shown in a giant golden picture scroll that is 7 meters high and 25 meters long. Visitors will also be able to see glimpses, through peepholes under the picture scroll, of clean energy systems that will support the future of the Earth's environment.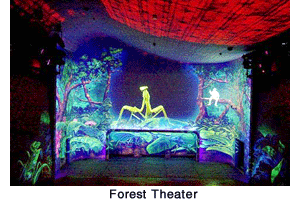 The theme of Aichi Pavilion Seto is "Discovering the Forest's Life Cycles." Located in a corner of the "Kaisho Forest" with its rich nature, visitors will be able to feel our relationship with nature in this pavilion. In the three-tier structured pavilion, which is harmonious with the rolling landscape, visitors will enter from the top floor and work their way down as they view the exhibits.

In this pavilion, visitors will first encounter the "Forest Library" where selected animals and plants of Aichi from "Honzouzusetsu," a natural history atlas compiled in the Edo Period, are displayed.

Stepping into the "Forest Theater," visitors will then watch films in which dramatic scenes of the four seasons and various wildlife of the "Kaisho Forest" have been documented over two years. In the theater equipped with the world's first sound system of its kind, visitors will experience an amazing world of insects, see many different scenes of the forest and hear never-before-heard sounds of the forest.

Visitors will then walk out of the theater into the "Forest Gallery" with its display of arts and crafts. These craftwork address living creatures of daily life, like insects, and have been made by approximately 10,000 children of Aichi using natural and recycled materials. Then, visitors will walk down into the "Forest Museum" which is an artificial cocoon with light and sound effects. Three specimens of extinct mammals of Aichi, such as the Japanese wolf, will be displayed in this gallery.

Aichi Pavilion Seto will offer visitors an opportunity to feel how all living things are important to us.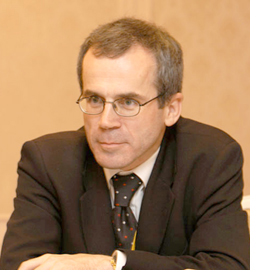 Ireland has only participated in five Expos and three of them have been in Japan. So, we have great confidence in coming to Japan. We know that an Expo in Japan is always going to be a success. We believe that Japan has a very good tradition in organizing events of this size. We know that we can be confident of Japan's commitment to EXPO 2005 Aichi, Japan, and that we will have wonderful support from both the national and regional government levels.

I think the theme of Nature's Wisdom is probably best reflected in diversity. When I heard the descriptions of the various exhibits being prepared for the pavilions of the participating countries as well as the corporate pavilions, the ones I found most exciting were those dealing with the sheer diversity of nature.

As the first Expo of the 21st century, I think EXPO 2005 will provide a good example of what the modern Expo can be. The original Expositions were focused essentially on trade, but they have grown away from playing this role in the promotion of goods and trade. I think that EXPO 2005 will be a step towards the new type of Expos for the future. It will create a forum for countries around the world to exchange information and opinions on a concern shared by international society. This development comes at a time when the need for agreed solutions and common action is increasingly recognized.

Essentially, an Expo works at 3 levels. The first comes from the commitment of governments and widespread international participation. Official attention will be given in each participant country to the theme of the Expo in order to prepare the national exhibit. The second important part of the Expo is that a tremendous number of people, estimated for EXPO 2005 at 15 million, will receive the messages of the Expo which I hope will be presented in a very entertaining, lively way and will stimulate a lot of discussion and debate. The third essential dimension is the press. I hope that the media will take a strong interest in EXPO 2005 and give it widespread coverage so that even the people who have not been able to visit can share in thinking about the message of EXPO 2005.

Ireland is a rather thinly-populated land and we have a mainly green landscape. Our culture and traditions are informed by nature. We find the "Art of Life" everywhere in Ireland - in our music, paintings, sculptures and various aspects of our daily life. I would invite all Expo visitors to come to the Ireland Pavilion to enjoy a sense of our heritage seen through historical monuments, our music and our art.

EXPO 2005 AICHI, JAPAN Newsletter
To read past issues:Back Number
Editor/Publisher: Japan Association for the 2005 World Exposition

Head Office:
1533-1 Ibaragabasama, Nagakute-cho
Aichi 480-1101 Japan

Nagoya Office:
Nagoya Daiya II Bldg 4F, 3-15-1 Meieki
Nakamura-ku, Nagoya, Aichi 450-0002 Japan

Tokyo Office:
Iino Bldg 8F, 2-1-1 Uchisaiwai-cho
Chiyoda-ku, Tokyo 100-0011 Japan



© Japan Association for the 2005 World Exposition