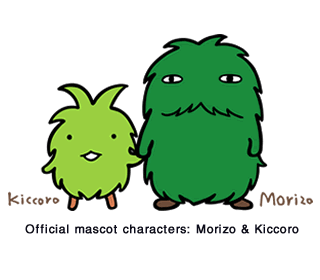 Morizo and Kiccoro are the official mascot characters of EXPO 2005 Aichi, Japan. They were created by two Japanese character designers, sisters who work under the name ARANZI ARONZO. The mascots' names were chosen through a naming competition that attracted more than 80,000 entries. The characters are enjoying popularity not only among Japanese children but also among people overseas.

From April 2003, the Japan Association for the 2005 World Exposition, together with the Foundation for Global Peace and Environment and the United Nations Environment Program (UNEP), held the "Morizo & Kiccoro 100 Worlds Contest," an art contest for children around the world. The theme of the drawings submitted was, "Day-to-day life and the world of dreams featuring Morizo and Kiccoro." A total of 4,773 entries, including 3,059 from 29 foreign countries, were submitted to the contest. The final screening by ARANZI ARONZO and others was held in September 2003, and the prize winners were announced. The award-winning drawings will be shown at EXPO 2005 for the duration of the world exposition.

Sales of related character merchandise are going well, with pin badges and plush toys in popular demand. A picture book with Morizo and Kiccoro as the main characters is also proving very popular. Entitled "Mori no Koe (Voice of the Forest)," it is a story about how Kiccoro, who gets lost in a forest, is able to return safely to Morizo by being led by a mysterious voice of the forest. The popularity of this picture book erupted in Japan when scenes showing His Imperial Highness Crown Prince Naruhito, Honorary President of EXPO 2005, reading a passage from this picture book at the urging of his daughter Princess Aiko were shown on television.

Morizo and Kiccoro are forest fairies that live in the forests of Seto City, Aichi Prefecture where one of the EXPO's venues are located. These forest fairies have the magical power of maintaining the spark of a forest's life, soothing tired souls by delivering sunshine filtering in through foliage or by bringing about refreshing breezes. Morizo is an elder forest fairy and Kiccoro is a child, but the blood relationship between the two has not been disclosed. They have come to lend a helping hand to the EXPO upon learning about it, but very little is known about them. What do we know so far?

Regarding their gender, Kiccoro says, "I am neither a boy nor girl but am, at the same time, both." Morizo is also ambivalent and says, "Everyone calls me 'grandfather,' but I really do not know. I do not think that I am of either gender." As to their ages, Kiccoro says, "I was just recently born," and Morizo says, "I have been around for so very many years that I don't remember when I was born." Kiccoro is an innocent and cheerful character full of curiosity who loves Morizo. Meanwhile, Morizo is kind and easy going but can be scary when mad. A well of information and full of wisdom, Morizo likes to teach things but is lenient when it comes to Kiccoro.

An animated series featuring Morizo and Kiccoro has been broadcasted in the Chubu Region, where the EXPO will be held, since the spring of 2004. The series consists of short stories (each concluded in one show) that communicate the Nature's Wisdom theme of EXPO 2005 in a way that is understandable even to small children. Ratings have been rising with each broadcast of the series. Nationwide broadcast of the animated series began this autumn, and it is now well known throughout the country.

The powers of Morizo and Kiccoro are not yet fully known. Their stories have just begun, and we have yet to see what kind of an active role the two fairies will be playing at EXPO 2005. We will need to keep a close watch on the pair to see their activities on the big stage.