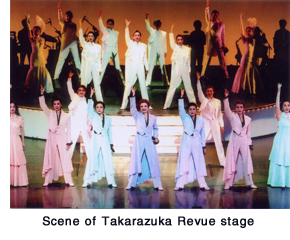 Many colorful events will be held at EXPO 2005 Aichi, Japan to act as pillars - together with the pavilions - to express the EXPO's theme, "Nature's Wisdom."

The events include official ceremonies such as the pre-Expo reception, the opening ceremony and closing ceremony, to which guests from Japan and abroad will be invited; official events, including National Days, Special Days, Local Government Days, and Pavilion Days; events organized by the EXPO 2005 Association designed to realize the theme and concepts of EXPO 2005; and EXPO participation events, which are programs in a wide variety fields that include those selected through a call for public participation, that will have a large number of people participating. Events will be held every day during the duration of EXPO 2005 at various locations such as the EXPO Dome and EXPO Hall.

From the many events being planned, the event organized by the EXPO 2005 Association, "Global Harmony Concert;" a portion of the content of "HARMONY," a new cultural creation event; and the participating groups and schedule of the EXPO participation events were announced on December 2.

The Global Harmony Concert uses music as the medium for bringing about a wealth of communication with people of the world. It is a program being held to create a new circle of global intercultural exchange, born through the many encounters and feelings of affinity through the concert. It consists of the three programs below, all to be held at the EXPO Dome.

In "Prayers to the World," (to be held on April 17 and 18, 2005), sacred music from the world's three major religions - Buddhism, Christianity and Islamism - will gather, with not only individual performances being made by each group but also a finale in which all the performers will come together in a joint performance. It will embody the theme of the event, "Know the World through Music. Contemplate Peace through Prayer."

In "Pop Goes Around," subtitled "Let's Have Fun with Pops with an Orchestra!"(scheduled for June 25 and 26, 2005), the Nagoya Philharmonic Orchestra will perform numerous pop tunes born from classical pieces as well as movie themes, which will all be introduced in a fun way. This blissful 80-minute event will be like playing with an orchestra through music.

In "EXPO Special Revue Amour Takarazuka: Love Goes around the World" (scheduled for July 13 and 14, 2005), former Takarazuka Revue Company stars will sing, dance and recreate famous scenes from Broadway musicals and Takarazuka shows in a glamorous stage performance. Takarazuka is a uniquely Japanese all-girls opera company in which women play even the parts of men. This Japanese performing art will be introduced to the world from the EXPO venue.