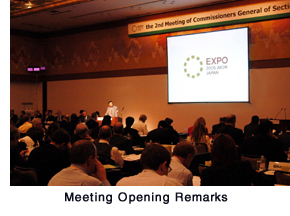 With only about four months left before the opening of EXPO 2005 Aichi, Japan, the 2nd Meeting of Commissioners General of Section was held for two days beginning on November 8 at a hotel in Nagoya City. This is a meeting of representatives from participating countries and international organizations for discussions in preparation for EXPO 2005. This was the second meeting following the first held in November last year. About 330 people representing 100 countries and 4 international organizations participated in the 2nd meeting.

A welcome reception was held on November 7, the day before the meeting. About 530 people, including commissioners general of the participating countries and international organizations, as well as those in charge of the "Aichi International Campaign for Hometown Interchange and Hospitality (Aichi Hospitality)"* at local Aichi municipalities that will become "host cities" and "host towns" of participating countries, attended the reception and deepened exchanges by talking about each other's culture, etc.

An official reception hosted by the government of Japan was held on the 8th. Sanzo Hosaka, Senior Vice Minister of Economy, Trade and Industry, attended as guest of honor. In his address, he said that Japan, as the host nation, will spare no effort to make EXPO 2005 a success.

At the meeting held on November 8 and 9, Toshio Nakamura, Secretary-General of the Japan Association for the 2005 World Exposition, gave a progress report, while various Deputy Secretary-Generals presented explanations on subjects that included international communication; events; protocol regime of the National Days and Special Days; commercial activities; services such as custom clearance, transport and security; exterior and interior construction on pavilions; and electric power supply, etc.

Later, official participants raised questions and gave requests related to pluralistic development of international communication, custom clearance for commercial activities, space for commercial activities, etc. There was an active exchange of opinions between the Association and official participants.