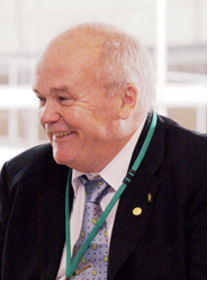 I think that the concept of the "Nature's Wisdom," which is the theme of EXPO 2005 is very attractive. But how should we consider nature?

In one philosophy, nature and humanity are considered different entities. Another way of thinking is to consider humanity as a part of nature, a very important part for two reasons. One is that humanity is the eyes and ears, or the brain that sees, hears and analyzes for nature. Another is that man is dominating some parts of nature. We call this noosphere. In the 20th century, humanity began dominating the biosphere by acquiring the knowledge, a way to communicate with each other. When you consider humanity as a part of nature, you need to consider everything: its responsibility for humanity and its responsibility towards nature. It is important that there is beautiful harmony between humanity and nature within this noosphere.

Another harmony is also very important. It is the harmony between the main components of the development of humanity. The centerpiece of this development is education, and others are science, engineering, free enterprise and culture. You need to cultivate all of these components in harmony.

I think that the harmonious development of these diverse components is expressed in EXPO 2005. It has the Corporate Pavilion Zones that express entrepreneurship and engineering. It has big screens and pavilions that cover the results of scientific development, such as about space and biology. At the Global Commons, visitors can experience multicultural development. Furthermore, in the NGO Global Village, visitors can see the development of civil society through NGOs. EXPO 2005 is an integration of the various components of development.